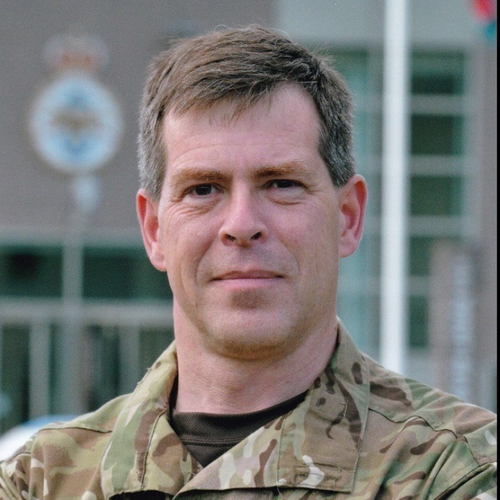 Air Commodore Steve Thornber CBE MA
Deputy Director Integrated Cyber, Electromagnetic and Effects Directorate
,
Strategic Command
United Kingdom
Air Commodore Thornber has had tours in strategic imagery analysis, tactical reconnaissance, intelligence-collection management, instructing, on exchange with the US, contingency planning, and in an outer office. His operational experience spans tours in the Afghanistan, Balkans, Kuwait, Iraq, Qatar, Saudi Arabia and Turkey supporting air and land ops at tactical and joint operational level.
In 2003, he took command of the RAF's Tactical Imagery Intelligence Wing (now 1 ISR Wing) before returning briefly to Shrivenham as ACSC Directing Staff in 2006. He was promoted to Gp Capt in 2007 as Director Joint Narcotics Analysis Centre and deployed to ISAF Joint Command as Deputy Director Intelligence (Operations) for a year in 2009. He took command of the Joint Air Reconnaissance Intelligence Centre in 2010, moving it to Wyton in 2012 to form the Defence Geospatial Intelligence Fusion Centre. In 2013, he was posted to Supreme Allied Command HQ as Head Knowledge Management, before being promoted to Air Cdre in 2015 and returning to UK as ACOS J2 at the UK's Permanent Joint HQ. He became a Commander in the Order of the British Empire in 2014.
In 2016, he was posted to US Central Command as Deputy Director for Intelligence (Operations) as 1* lead for ISR, Targeting and Intelligence Plans and Ops, for which he earned the US's Legion of Merit (Officer). He returned to the UK in 2018 to Defence Intelligence as Head of Assessment for Middle East and Africa in close support to Ministers and Service Chiefs, and then in 2019 became Head of Defence Intelligence Operations.
He retired from Regular Service in 2021 but has a continuing role in the RAF Reserve as Deputy Director in UK Strategic Command's Integrated Cyber Electro-Magnetic & Effects Directorate. He is also an independent Defence and Security consultant in financial and technical sectors, is Chair of the RAF Intelligence Association, and President of the Medmenham Association.