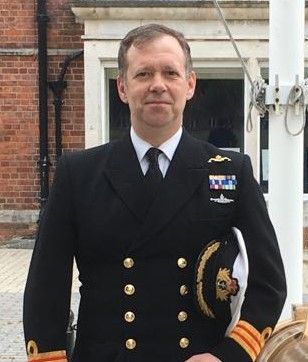 Surgeon Commander Steve Bland
Consultant in Emergency Medicine & Defence Consultant Advisor in CBRN Medicine and Chair, NATO CBRN Medical Working Group, Defence Medical Services
Steven trained at Manchester University and joined the Royal Navy in 1994. Serving on HM Submarines for 2 years, he developed an interested in medical emergencies and remote medicine as well as radiation incident response. While training in Emergency Medicine (EM), he furthered his interest in radiation and toxicology by completing the Diploma in Medical Toxicology and then MSc passing with distinction.
During his secondment to the London Helicopter Emergency Medical Service, he was the Forward Medical Incident Officer at Kings Cross during the 7th July bombings 2005. He was appointed as an EM Consultant in Portsmouth in 2007. As a military EM consultant, he has deployed on a number of operational and humanitarian missions including Iraq, Afghanistan, the Mediterranean, Sierra Leone, and the Caribbean following hurricanes Irma and Maria.
Steven is now the UK military medical lead for CBRN medicine as the first Defence Consultant Advisor in this field. He was the Medical Director at the Defence CBRN Centre from 2007 to 2018. He is also Head of the UK Joint CBRN Medical Faculty and chairs the NATO CBRN Medical Working Group developing an all-hazards approach to incident management and bio-response including guidance on cooperation between national and international health sectors supporting wider Health Resilience.
In 2020, he was awarded both the annual Medal for Clinical Excellence in Military Medicine by the Worshipful Society of Apothecaries on behalf of the UK Surgeon General, and the Dominique-Jean Larrey Award, the highest NATO medical honour, for his extensive work in the field of CBRN for NATO over the last 10 years.