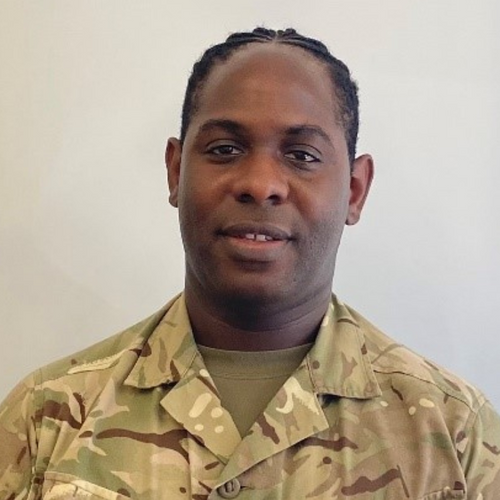 Major Stephan D'Abreu-Hayling MPHARM PGDIP MRPHARMS RAMC
Army Command Pharmacist
,
British Army
United Kingdom
Born in Trinidad and attending all formal education in England, Maj D'Abreu-Hayling joined the Territorial Army in 2006 whilst at university. He graduated from the University of Bradford with a Master's in Pharmacy in 2009. He initially commissioned into the Army Reserve as a Lieutenant in 2013 with 212 Field Hospital whilst working as a community pharmacy manager in Wakefield.
Commissioned into the Regular Army as a Captain in 2015, Maj D'Abreu-Hayling served at the Royal Centre of Defence Medicine, at 16 Medical Regiment. During this time, he deployed on multiple overseas exercises including as a pharmacist on Ex KHANJAR OMAN and for the Maritime Role 3's validation.
Following assignment to 3 Medical Regiment, he deployed on Op GRUMIUM as a medical logistics expert to support the Lebanese Armed Forces after the explosion in Beirut. He also deployed on Op RESCRIPT as a prescribing lead for vaccination teams. He was promoted to Major in December 2020, acting as Officer Commanding 18 Support Squadron prior to disbandment of 3 Medical Regiment. He is currently working as the Army Command Pharmacist responsible for medicines management policy, assurance and specialist advice.