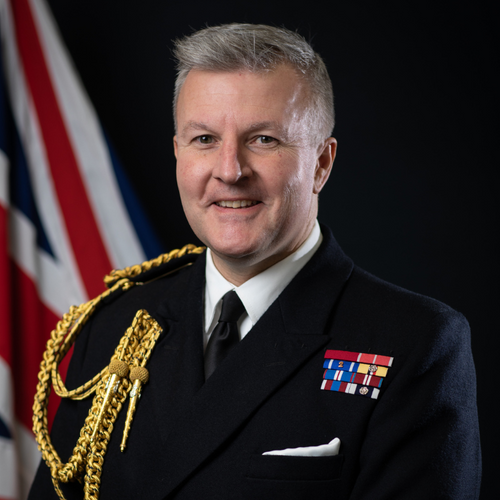 Vice Admiral Philip Hally CB MBE
Chief Defence People, UK Ministry of Defence
Vice Admiral Hally joined the Royal Navy in 1991. Early sea appointments included as Deputy Logistics Officer of the frigate HMS Chatham, Logistics Officer of the destroyer, HMS Liverpool and as the first Logistics Officer of the Landing Platform Dock HMS Bulwark.
He then filled a series of resource management and plans appointments in London including as the Defence Policy Advisor to HM Treasury, and as Royal Navy programmer for the Strategic Defence and Security Review 2010.
In 2012, he became Commander Logistics of the helicopter carrier HMS Illustrious, deploying to the Mediterranean and the Middle East; the latter including tasking to provide humanitarian and disaster relief to the Philippines following Typhoon Haiyan, for which he was made a MBE in the 2015 Operational Honours List.
Promoted to Captain in 2014, he was assigned as Head of Capability for Joint Logistic Enablers where he established the Defence Support Transformation Programme. He returned to Navy Command in 2017, and on promotion to Commodore assumed the role of Head of Navy Resources and Plans.
Promoted to Rear Admiral in May 2019, he assumed the role of ACNS People Transformation and Navy Transformation Director where he established and led the Royal Navy Transformation programme. As part of that Transformation, he became the first Royal Navy Director of People and Training in January 2020, bringing together Recruiting, Training and People Capability into a single wholeforce people function and assuming the role of Naval Secretary.
In Jan 22, he moved back to Head Office as ACDS People Capability, responsible for Defence wholeforce workforce strategy, planning and HR Transformation before becoming Chief of Defence People in Dec 22 on promotion to Vice Admiral.