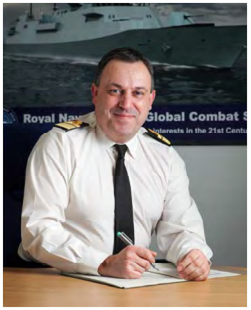 Rear Admiral Paul Marshall
Senior Responsible Owner, Ship Acquisition, Royal Navy
Paul Marshall was born and schooled in the West Midlands before joining the Royal Navy in 1988. He studied Engineering (BEng(Hons) 1992) at the Royal Naval Engineering College, Manadon and at University College, London (MSc 1997); and he is a graduate of the Advanced Command and Staff Course (2001) and Higher Command and Staff Course (2015) at the Joint Command and Staff College, Shrivenham. He is an alumnus of UK/US Rising Leaders Programme (2014) and the Major Projects Leadership Academy (2018).
His operational career at sea has seen tours in Frigates and Aircraft Carriers in the Far East (1992, 1997) including the handover of Hong Kong, counter-narcotics duties in the Caribbean (1994), the Gulf (1997), the South Atlantic (2002), Africa (1989, 2002) and in support of Operation TELIC (2nd Gulf War, 2003). From 2010-2012 he was the Staff Marine Engineer Officer of the Portsmouth Flotilla, super-intending the operational engineering activity across half of the RN's surface fleet.
Ashore, he has completed tours in acquisition, training and support and has spent much of his latter career in joint appointments – most recently helping to establish the UK's Joint Forces Command as the Principal Staff Officer to the 4* Commander, for which he was appointed CBE (2015). Other notable appointments include: Advisor to the Head of the Iraqi Navy (2006-2007) when he was awarded the US Bronze Star for Meritorious Service; and the Assistant Naval Attaché in Washington DC (2007-2010). He was promoted to Captain in March 2012 and served in Navy Command Headquarters where he was programme director for support improvement, engineering support and project "Faraday" which revitalized training and professionalism in the RN's engineering branch.
As a Commodore, he served as Programme Director for Type 26 frigates and established the Navy Command Ship Acquisition Programme Management Office, stepping up on promotion to Rear Admiral as the Senior Responsible Owner for delivery of the T26 and T31e Frigate Programmes and Fleet Solid Support Programme.