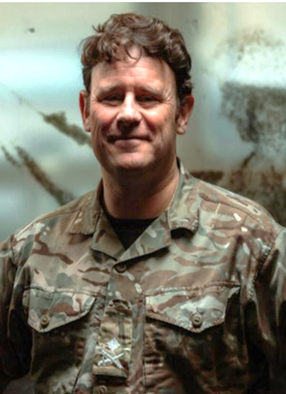 Major General Paul Griffiths BEng MSc MA CEng FIET
Director Personnel, British Army
Educated at Blue Coat Grammar School and commissioned into the Royal Corps of Signals in 1993, Major General Paul Griffiths has served operationally in Northern Ireland, the Balkans, Iraq and Afghanistan.
His early career encompassed a broad range of appointments which included managing the Bowman programme, signals intelligence, armoured squadron command in Germany and Iraq, and designing the future officer structure for the Army.
On completion of the Advanced Command and Staff Course, he posted to Main Building as an SO1 in Army Resources and Plans, negotiating the Army's redundancy programme and managing its liability during the planning rounds. He then commanded the 3rd (United Kingdom) Division's Signal Regiment, deploying it to locations across Afghanistan. Following command, he became an advisor to the Chief of the General Staff and then worked as his Military Assistant. Promoting to colonel, as the inaugural Deputy Assistant Chief of Staff Personnel, he was responsible for discipline, deployability initiatives and retention for the Field Army.
Promoting to brigadier in 2016, he took command of 1st (United Kingdom) Signal Brigade and completed the Higher Command and Staff Course. In a dual role as both Brigade Commander and Chief G6 for the Allied Rapid Reaction Corps, he provided cyber and communications capability at very high readiness to the Corps, Joint Helicopter Force and the Standing Joint Force Headquarters. Following brigade command, he was assigned to his fourth tour in Whitehall as Head Armed Forces Remuneration.
On promotion to major general, he was appointed as Director Personnel for the Army.
A keen sportsman, he swam at national level, boxed for the Royal Military Academy Sandhurst and his regiment, and played rugby for the Royal Corps of Signals. He enjoys diving and skiing which combine well with his love of travel. Any spare time is spent with his family and at home he can usually be found cooking or playing the guitar loudly.