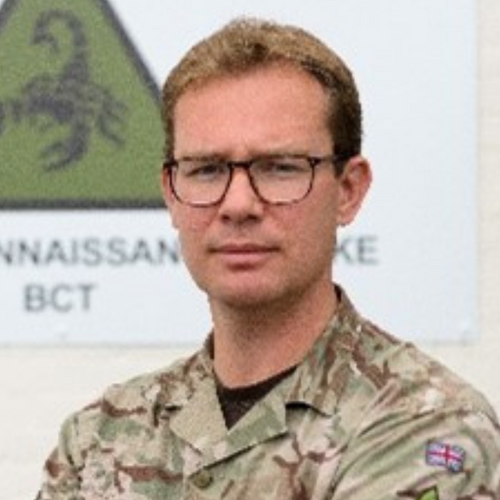 Brigadier Neil Budd OBE
Commander of 1st Deep Recce Strike Brigade Combat Team
,
British Army
United Kingdom
Brigadier Neil Budd assumed command of the 1st Deep Recce Strike (DRS) Brigade Combat Team on 1st July 2022, on its formation.
Brigadier Budd commissioned into the Royal Artillery in 2001, his regimental duty being predominately with close support armoured regiments in Germany and the UK. He has served with the UN in Cyprus on Op TOSCA. He was a Command Post Officer for the 2003 invasion of Iraq (Op TELIC 1), returning to Iraq as Regimental Ops Officer for Battlegroup South in 2007 (Op TELIC 10) operating around the southern environs of Basra. As a Battery Commander, he deployed to Afghanistan in 2013 (Op HERRICK 18) with the Royal Tank Regiment Battlegroup conducting operations around LashKar Gah and along the Arghandab River valley. His final appointment at regimental duty was to command 1st Regiment Royal Horse Artillery from 2016 to 2019, a period dominated by the Regiment resuming its armoured role and the development of new doctrine to counter emerging threats.
At staff Brigadier Budd has completed tours in Land Commitments (now the Land Operations Command); in the MOD within the former General Staff during Strategic Defence and Security Review 2010; and latterly in Army Headquarters as the Assistant Head Strategy during Integrated Review 20. Brigadier Budd has also served for a year as the Military Assistant to the Chief of Staff Operations in the UK Permanent Joint Headquarters (PJHQ) and as the Military Assistant to Commander Field Army.
Immediately prior to assuming command of 1st DRS BCT, Brigadier Budd completed the Higher Command and Staff Course at the UK Defence Academy. He has an MA from King's College London, a BSc(Hons) from Bristol University and is a Fellow of the Forward Institute.
Away from the Army, Brigadier Budd has worked for Barclays Investment Bank on a secondment for 5 months, focused on strategy and institutional management. He is a Freeman and Liveryman of the City of London, and currently serves as a Court Assistant (non-Executive Director) for the Worshipful Company of Masons. His interests also include offshore sailing, rugby and field sports. He is the Chairman of the Royal Artillery Shoot.