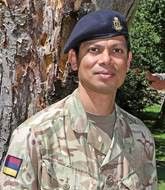 Lieutenant Colonel Mike Fernando
Chief Instructor, Army Medical Services Training Centre , jHub, UK Ministry of Defence
The Army Medical Services Training Centre is responsible for the collective training and assurance of medical capabilities prior to operational deployment or being held at readiness. Appointed Chief Instructor in June 2019, Mike has led development of digitised and deployable solutions across the centre, allowing AMSTC to provide the remote simulation and assurance of medical facilities across any environment.
He commissioned into the Royal Army Medical Corps as a Medical Officer in April 2000. His early career spanned UK and Germany, various overseas commitments and deployments to Iraq in 2005 – 06 (Operation TELIC 7) and Afghanistan in 2011 – 12 (Operation HERRICK 15). His final clinical post was as Senior Medical Officer to 1 Medical Regiment in Germany.
Following Intermediate Staff and Command Course (Land) in May 2013 he was assigned to 2 Medical Regiment in Germany, initially commanding 28 Medical Squadron and the Regimental Rear Operations Group during Operation HERRICK 19. He took command of 29 Medical Squadron in August 2014, as it supported to 1 (UK) Division's 'Adaptable Force', with personnel deploying across twenty-seven different countries in the next nine months.
In July 2015 he moved to the Army Headquarters Medical Capability Directorate as SO2 Future Concepts. There he worked on the healthcare input into the Army's projected forces concepts as well as developing the Joint Deployed Hospital Care and Land Pre-Hospital Care concepts, and coordinating a Tri-Service Capability Investigation into Prolonged Care.
In July 2017 he was deployed as the UN Military Advisor for the Jubaland State of Somalia (Operation PRAISER), advising the 1* UN Senior Military Advisor on Defence Sector Reform strategy in the state, and his UN Regional Head of Office on political and strategic effects of military action. He facilitated regional aspects of the Somali National Army (SNA) international capability audit and National Security Transition Plan, as well as reporting for the UN and UK on operations against insurgent groups across the state.
In July 2018 he was assigned as the Military Assistant to the Chief Executive Defence Academy and Commandant Joint Services Command and Staff College. As well as the routine delivery of military education across over 400 courses, the Defence Academy also undertook significant re-structuring into faculties to improve output efficiency.
He promoted to Lieutenant Colonel in June 2019 on appointment as Chief Instructor Army Medical Services Training Centre.
As well as a BM in Medicine, Mike has a BSc (Hons) and MPhil (Res) in the field of Molecular Biology, and is a Member of the Royal College of General Practitioners.