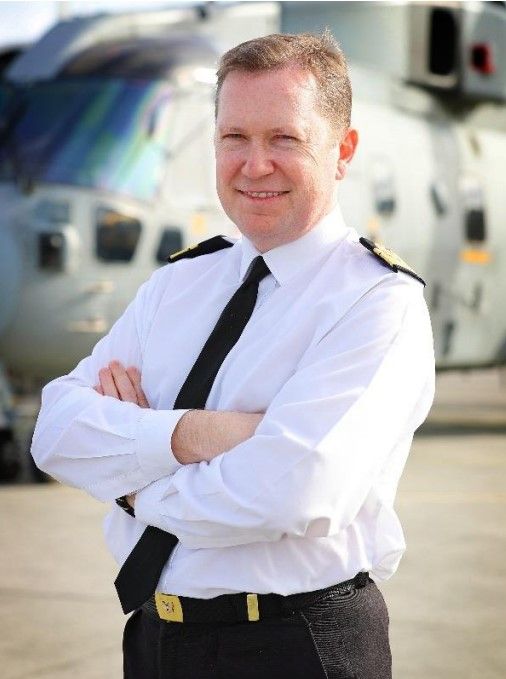 Rear Admiral Martin Connell
Director Force Generation and Rear Admiral Fleet Air Arm, Royal Navy
Martin Connell was appointed SRO for the Queen Elizabeth Class aircraft carriers and Rear Admiral Fleet Air Arm in February 2019. As the RN returns to Carrier Strike in 2020 he has assumed increased responsibility for Force Generation of all aspects of the Naval Service.

Commissioned in 1987, he qualified as a front line Lynx Observer and his early RN career was spent at sea in various frigate and destroyer Lynx Flights and as an Officer of the Watch.

In the early 1990s he became a Qualified Observer Instructor at 702 Naval Air Squadron, followed by time as a Flight Commander in HM Ships Coventry and Manchester as well as instructing front line aircrew in 815 Naval Air Squadron. In 1998 he specialised as an anti-submarine warfare officer (PWO(U)) for which he was awarded the Wilkinson Sword of Honour.

He has had the privilege of commanding at sea in every rank from lieutenant to commodore, including HM Ships Severn (2003-04), Chatham (2006-09) and the aircraft carrier Illustrious (2012-13). As the Commander of the United Kingdom's Task Group in 2015 he was the Joint Task Force Commander for two operations in the Central Mediterranean (Op Weald and Op Alvin), which included tackling the worsening migrant crisis.

Ashore he has completed three tours in the central staff of the Ministry of Defence, including being the Deputy Principal Staff Officer to the Chief of the Defence Staff. Prior to taking up his current role he was the British Naval Attaché in Washington D.C. responsible for overseeing and advancing the vital UK/US defence relationship.

He is a graduate of the US Naval War College (2004-05), the Higher Command and Staff Course (2011) and the US CAPSTONE Course (2017). He is a Younger Brother of the Corporation of Trinity House and is the President of Royal Navy Football. He was appointed CBE in the 2020 New Year Honours.