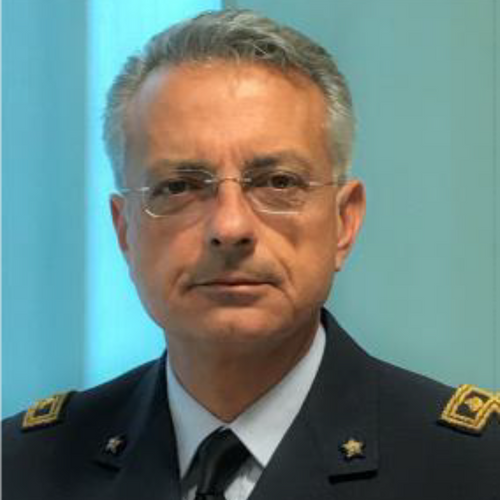 Brigadier General Luca De Martinis
4th Department Director, Armament Programmes Coordination, Secretariat General of Defence/ National Armaments Directorate
,
Italian Ministry of Defence
Italy
Brig.Gen. DE MARTINIS was born in Naples, Italy, in 1964. After attending Military High School Nunziatella from 1979 to 1983, he joined the Italian Air Force attending the Air Force Academy from 1983 to 1989, when he was awarded his University degree with honour as Doctor in Electronics and Computer Science.
In 1989 he was assigned to Pratica di Mare AFB (Rome) where until 1992 he served in numerous positions in the Operational Software Maintenance Group of the Italian Air Force Study, Research and Development Division.
In 1992 Brig.Gen. DE MARTINIS attended the 42nd Guided Weapons Course, in UK at the "Cranfield Institute of Technology - Royal Military College of Science", Shrivenham (UK), receiving his Master Science Degree in 1993.
In 1993 he was reassigned to Pratica di Mare at the Italian Flight Test Center, where, qualified as Flight Test Engineer, he served in numerous position until 1998, dealing primarily with Tornado, AM-X and EF2000 Operation Flight Programs' development and maintenance.
From 1998 to 2002, Brig.Gen. DE MARTINIS was assigned to the International HARM Upgrade Project Team in Washington DC (USA) as Deputy Program Manager of the tri-national cooperative missile development program (US, GE and IT).
In 2002 he was assigned to the Italian Air Force General Staff, Logistic Department, and from 2002 to 2008 he served, at first, as Chief of the Avionic Systems and Electronic Warfare Section and then as Chief of the Air Defence Aircraft section.
In 2008 he was transferred to National Armament Directorate (Segredifesa) Program Department, dealing with Fighter Jets, RPAS and Guided Weapon Systems acquisition programs. During this assignment, as Chief of the Aeronautical Program Office, he was leading negotiator in numerous international cooperative programs.
From 2013 to 2016, Brig.Gen. DE MARTINIS was appointed RPAS Division Leader at DAAA, responsible for the acquisition and entry into service of all RPAS for Italian Armed Forces.
In 2016 he was transferred back to the Italian Air Staff - Logistic Departement, where he was appointed Head of the RPAS Office, responsible for setting up RPAS operational and logistic requirements, coordinating and managing ITAF efforts to sustain RPAS capabilities.
Promoted Brigadier General in 2018, he was the appointed Chief of the Logistic Department of the Italian Air Staff. His portfolio of responsibilities included all C4ISTAR, Manned and umannned platforms, CSS and infrastructure programs. He has been Italian BoD representative for the EF2000, F35, AGS, NAEW and MEADS programs.
In December 2021, Brigadier General Luca De Martinis has been appointed Chief of the 2nd Department at DAAA, Aeronautical System Procurement Branch and Airworthiness Authority at the National Armament Directorate. In his position, he oversaw RPAS and Helicopter Programs of the Italian Armed Forces.
Effective July 2022 is serving as Director of 4th Department – Coordination of Armament Programs- at Secretariat General of Defence & National Armaments Directorate of Italian Ministry of Defence.