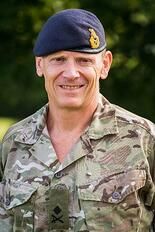 Major General Jeremy Bennett CBE
Director Futures, British Army
Major General Jez Bennett studied at RGS High Wycombe with little distinction. He spent four years at Liverpool & Bordeaux Universities studying French, playing rugby and competing in the Reserves' CIOR Military Pentathlon Competition before attending Sandhurst. Commissioned into the Gunners he served initially in 3RHA where he retained his love of sport. He also completed a tour of Bosnia as a FOO, before returning to Sandhurst as a platoon commander.
Two years on the MDA course and at staff college led to the Resources & Plans area of the MOD, before returning to the more upbeat world of regimental duty with 1RHA in 2005. This included a UN tour in Cyprus as a liaison officer and then to Iraq on Op TELIC 10 in 2007 in the infantry role. A further tour at Sandhurst as company commander preceded a post in Army HQ Commitments (now ADOC) force generating the brigades deploying to Iraq and Afghanistan.
His command of 1RHA focused on leading the 11 Brigade Joint Fires and ISTAR Group in Helmand in 2009/10. He then moved to Army Resources and Plans in MOD as Colonel Army Plans in 2011, and was appointed OBE in 2012 from his time as CO. He was selected to be the first commander of 1st Artillery Brigade and HQ South West in 2014, having completed HCSC. He returned to London in April 2016 as Head of Capability Plans, in the Finance and Military Capability area of the MOD.
He was delighted to take on the role of Chief of Staff HQ Allied Rapid Reaction Corps in Dec 2018 as ARRC transitioned to the new NATO corps warfighting role. In April 2019 he also became the first regimental colonel commandant of the Royal Artillery, acting as the link between the Master Gunner and the serving Regiment . In August 2019 he became Director of Capability for the British Army. As part of the Army Operating Model Review, he became Director Futures on 1 September 2021.