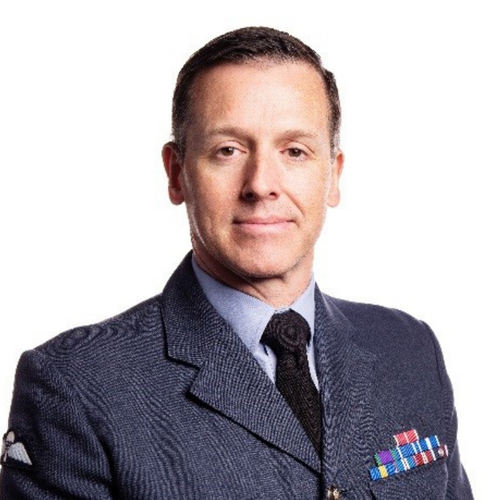 Group Captain Jamie Miller MBE MBA MA
Head Capability - Climate Change & Sustainability
,
Ministry of Defence
United Kingdom
Group Captain Jamie Miller commissioned into the Royal Air Force in 1993 and has been grounded in the logistic world. In the early years, he undertook a wide range of logistic and fuel specialist posts.
His early staff roles included logistics policy, Human Resource Management for logistics officers and, the Chief of the Air Staff international briefing team. Miller attended Advanced Command and Staff College, at the UK Defence Academy, in 2015.
Command appointments have included the Logistic Squadron at RAF Benson and Commanding Officer of Tactical Supply Wing, the in-field helicopter refuelling wing for defence.
Later staff roles saw a return to operational fuel within Defence Food and Fuel Services and the Defence Strategic Fuels Authority, before being seconded to the USA as head of international sustainment supply for the F-35.
On promotion to Group Captain, Miller became Head of the Defence Strategic Fuels Authority and on completion of that tour moved, in 2022, to the newly established post of Head of Capability & Climate Security within the Levelling Up, The Union, Climate Change and Sustainability (LUCCS) Directorate in the MOD.
In terms of operational tours, he has deployed to Bosnia, the Falkland Islands, Kosovo, the Darfur region of Sudan where he worked for the European Union in support of the African Union Headquarters and latterly, on OP ALTHEA based in Sarajevo.