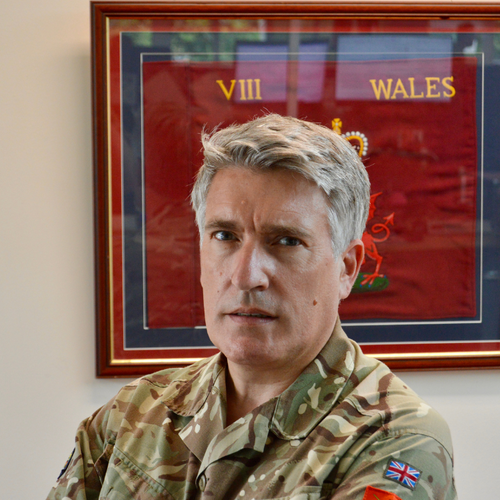 Major General James Bowder OBE
Director Futures
,
British Army
United Kingdom
Major General James Bowder is Director Army Futures, responsible for setting the aiming point of the British Army and driving change.
He commissioned into the Grenadier Guards in 1996 and served at regimental duty until 2003. This included two years as the Adjutant of the 1st Battalion as well as three operational tours of Northern Ireland.
In 2003 he moved to the MOD to work as the Assistant MA to ACGS (the then Maj Gen David Richards), and in 2004-5 attended ICSC(L) at Shrivenham. Upon the course's conclusion he served in the Directorate of Joint Commitments in the MOD as an SO2 supporting the strategic conduct of operations in Iraq and Afghanistan.
Company command followed in 1st Battalion Grenadier Guards and included an Afghanistan tour in 2007. He then served as Chief of Staff of 11th Light Brigade during the closing months of their Adaptive Foundation progression, and subsequently on Mission Specific Training and Op HERRICK 11 as Chief of Staff of Task Force Helmand, Afghanistan.
After ACSC 14 he commanded 1st Battalion Grenadier Guards between 2011 and 2013. This included eight months commanding a multinational Battle Group in Helmand Province, Afghanistan on Op HERRICK 15 and 16.
Between 2013 and 2014 he served as Military Assistant to Commander Land Forces. Appointed to the post of Colonel Strategy on the Army's General Staff in 2014, he founded and then led the Chief of the General Staff's Initiatives Group based in Andover and London.
After attending the Higher Command and Staff Course in 2016 he was promoted to Brigadier and commanded 1st Intelligence, Surveillance and Reconnaissance Brigade.
Following a tour as the Army's Head of Strategy in 2018 he assumed command of the 6th (United Kingdom) Division in August 2019, on promotion to Major General. This is the formation optimised to for Special Operations, PsyOps, Cyber, Electronic Warfare and Intelligence Operations.
In September 2021 he became Director Army Futures.