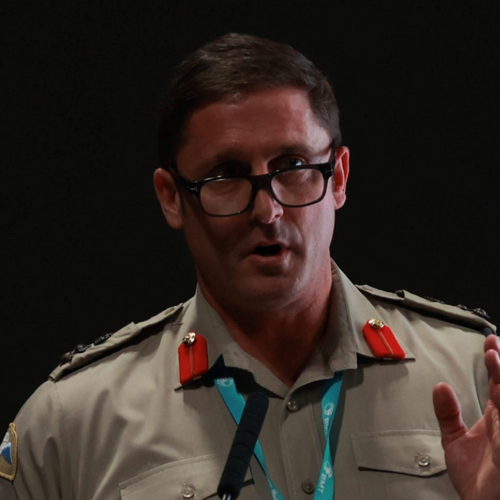 Brigadier Jaimie Roylance OBE
Chief Technology Officer
,
Royal Navy
United Kingdom
Jaimie Roylance grew up and was educated in Somerset in the West of England, and was commissioned into the Royal Marines in 1993.
His early career included command of an infantry platoon of the Parachute Regiment, and qualification as an Arctic Warfare instructor. Following specialisation as a helicopter pilot, he undertook multiple flying tours with the UK's Commando Helicopter Force, deploying to the Middle East and Afghanistan on numerous operational tours. He also served as an AH-1W Cobra pilot and Squadron Operations Officer with the United States Marines Corps in Iraq in 2003. He has commanded both 846 and 847 Naval Air Squadrons. His flying career culminated with command of the UK's Joint Aviation Group (TF Jaguar) in Helmand, Afghanistan in 2013-2014.
Staff appointments have included tours in HQ Joint Helicopter Command, Army HQ, Navy HQ, HQ Strategic Command, and in the Ministry of Defence (3rd Floor). He was the Assistant Head Capability Delivery in the Air Manoeuvre Capability Directorate in 2014-16, and the MOD's Defence Attaché to Indonesia and East Timor in 2017-18. He was an Assistant Head in the Directorate of Joint Warfare in 2019-2021, a role which entailed management of a significant technology innovation project and also the implementation of the Defence Organisational Learning Strategy. He was a member of the Royal College of Defence Studies 2021/22. Jaimie took up the role of the Royal Navy's Chief Technology Officer in July 2022.