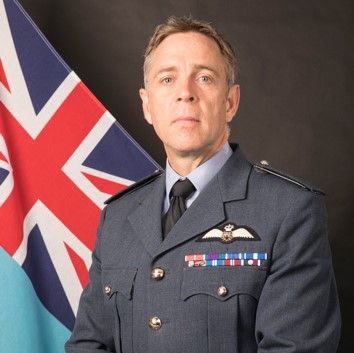 Air Vice Marshal Ian Duguid
Commander No 11 Group and Head of Defence Operational Capability, RAF
Air Vice-Marshal Ian Duguid joined the Royal Air Force in 1986. After completing flying training, he was posted to RAF Laarbruch in Germany to fly the Harrier GR5. He served 7 years in Germany completing tours with both No IV (Army Co-operation) and No 3(Fighter) Squadrons and graduated as a Qualified Weapons Instructor. During this period Duguid flew operational missions over Northern Iraq well as missions in support of the UN and NATO over the Balkans.
In 1998, on promotion to squadron leader, he was detached to a media operations team in Kuwait during Operation BOLTON. Staff tours followed at RAF Strike Command and MoD Directorate of Air Operations and Directorate of Strategic Plans. On completion of ACSC in Sep 05 he returned to flying the Harrier. He spent two and a half years in command of No IV(AC) Squadron, principally leading it through 4 operational tours of Op HERRICK; accumulating over 130 missions in support of ISAF forces.
Promoted group captain in Sep 08, Duguid was appointed to drive coherence across the Network Enabled Capability and ISR communities of interest. On completion of HCSC 11, he deployed to Regional Command Southwest (Camp Leatherneck), Afghanistan, working with the US Marine Corps and was responsible for the coordination and integration of operational effects across Helmand and Nimruz provinces. On return to the UK, Duguid was appointed as Deputy Head Air Capability for the UK's F-35B programme and associated weapons systems. Promoted air commodore in Dec 12 he was appointed as the Head of Defence Operational Capability within the MoD, providing operational risk management assurance across Defence. In March 15, he assumed command of the Typhoon Force leading it through a period of considerable growth and operational commitments. Duguid was promoted air vice-marshal in Oct 18 and appointed as AOC Number 11 Group. He is an Officer of the Most Excellent Order of the British Empire (09) and Companion of the Most Honourable Order of the Bath (21).
Duguid is a keen cyclist (road and mountain) and enjoys running and outdoor activities. He is president of No 1811 (Marlow) Squadron Air Training Corps and a Director of a Multi Academy Trust in his local town Marlow, Bucks.