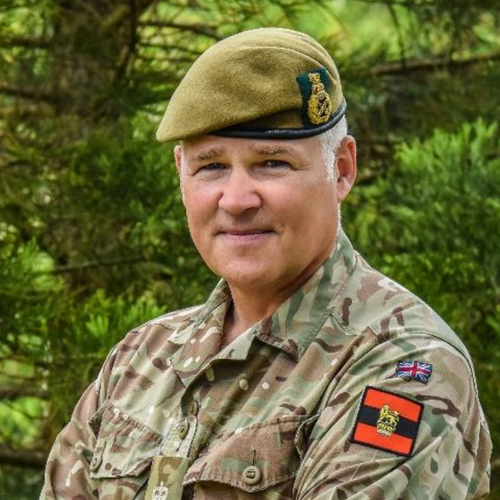 Lieutenant General Ian Cave CB
Commander Home Command
,
British Army
United Kingdom
Lieutenant General Ian Cave commissioned into The Royal Welch Fusiliers in 1988. His initial appointment was as a rifle platoon commander in Northern Ireland, then OC Recce Platoon in Berlin (1989-1992). Other early appointments included: six months with BMATT Zimbabwe and Ops Officer 1 RWF (1995 UNPROFOR Bosnia). He was fortuitously assigned to the US Army Joint Readiness Training Centre Fort Polk, Louisiana for two years (1996-1997) as an observer/controller. He attended RMCS Shrivenham to study for a Masters in Defence Administration (1999) prior to the Advanced Command and Staff Course, after which he served at PJHQ in J5 Plans.
Thereafter, he commanded a rifle company in The 22nd (Cheshire) Regiment, completing a tour in NI in 2002 and Iraq in 2004. On promotion to Lieutenant Colonel in 2005 he served in the MOD working on the Iraq Information Strategy before assuming command of 1st Battalion The Cheshire Regiment in 2006. Time in command included a second tour to Iraq and the formation of The Mercian Regiment. On promotion to Colonel in 2008, he assumed the appointment of Assistant Director Commitments at HQ Land Forces and completed the Higher Command and Staff Course in 2009. Promotion to Brigadier followed, where he assumed command of the Initial Training Group in 2011. He then spent 2013 in Kabul as Chief CJ5, HQ ISAF prior to becoming Director Training, Army HQ. On promotion to Major General, he assumed appointment as DCOS Plans at HQ JFC Naples in July 2015 and most recently was Chief of Staff Field Army.
In June 2021, he was promoted to Lieutenant General and appointed as the Commander Home Command and the Standing Joint Commander (United Kingdom) with responsibility for engagement, recruitment, basic training, education, career management and Defence's contribution to resilience operations. He is also the Joint Commander in the event of Op BRIDGE. He will assume the role of UK MILREP to NATO & the EU in Nov 23.
Lieutenant General Cave is the Colonel Commandant of the Infantry, Colonel of The Mercian Regiment, Assistant Colonel Commandant of the Adjutant General's Corps (ETS), and President of Army Cycling.