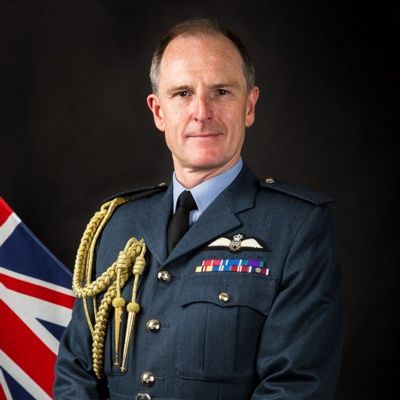 Air Marshal Gerry Mayhew CBE MA
Deputy Commander Operations, Royal Air Force
Air Marshal Gerry Mayhew was commissioned into the Royal Air Force in 1988. After a tour as an Air Traffic Control Officer in RAF Germany, he re-mustered as a pilot and was posted to the Jaguar. He became a Qualified Weapons Instructor and completed an operational exchange tour with the United States Air Force flying the F16C before returning to the Jaguar as a Flight Commander. After a short ground-based tour in central Iraq, he assumed command of XIII Squadron flying the Tornado GR4 and later, as Air Officer Scotland, took command of RAF Leuchars, flying Typhoon. Air Marshal Mayhew has amassed nearly 3000 flying hours and logged over 200 operational sorties.
He has completed staff tours in the RAF's Personnel Management Agency and in the Defence Concepts and Doctrine Centre. In the Ministry of Defence, he has been the Senior Appointments Team Leader and the Assistant Director (Joint Strike) in the Directorate of Joint Capability. He was the Deputy Principal Staff Officer to the Chief of the Defence Staff, General Sir David Richards, and worked in the Cabinet Office as the Deputy Director responsible for the Defence and Homeland Security aspects of the 2015 Strategic Defence and Security Review.
As an Air Vice-Marshal (2*), Mayhew commanded the RAF's No 1 Group, responsible for the force generation of all RAF Combat Air, ISTAR and Battlespace Management capabilities, as well as the UK JFAC. He subsequently joined the Air Force Board as the Assistant Chief of the Air Staff, responsible for the strategic coherence and coordination of the RAF on behalf of the CAS. Promoted to Air Marshal (3*), he took up his current post as Deputy Commander (Operations) in April 2019.
Mayhew has completed the Advanced and Higher Command and Staff Courses, and the UK Pinnacle Course. He is President of RAF Rugby Union.