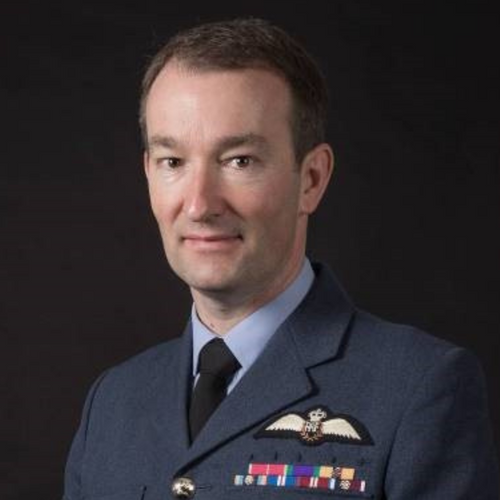 Air Vice-Marshal David Arthurton OBE
Director Military Digitisation
,
Defence Digital
United Kingdom
Air Vice-Marshal Arthurton was commissioned into the Royal Air Force in March 1994. His early operational career was spent flying the Tornado GR1 and GR4, to include Operation TELIC over Iraq in 2003.
In October 2004 AVM Arthurton was selected for exchange duties and posted to the 13th Bomb Squadron, Whiteman Air Force Base, to fly the B-2 Stealth Bomber which including operational missions. Staff tours followed before AVM Arthurton was selected to command 617 Sqn, The Dambusters, in 2012.
Posted to PJHQ in June 2014, AVM Arthurton assumed the post of Deputy Assistant Chief of Staff J3 with responsibility for Africa, running UK operations across the continent. In Jan 2016 he assumed the role of Deputy Assistant Chief of Staff Joint Effects where he led the team that enabled the delivery of synchronised multi-domain effects in UK operational theatres.
In November 2016 AVM Arthurton was assigned to command RAF Leeming, a station with sharp focus on expeditionary air operations. On promotion to 1* in Dec 2018, AVM Arthurton was assigned to the 609th AOC, Al Udeid Air Base, where he enjoyed a fast-paced operational tour as the CAOC Director, responsible for coalition air operations across CENTCOM. In June 2019 he was posted to RAF Marham to become the Lightning Force Commander, before commanding the Combat Air Force from Dec 2020
Assigned as Director Strategy and Military Digitisation in May 2022, he is responsible for accelerating the transformation and adoption of digital capability and services across the battlespace.