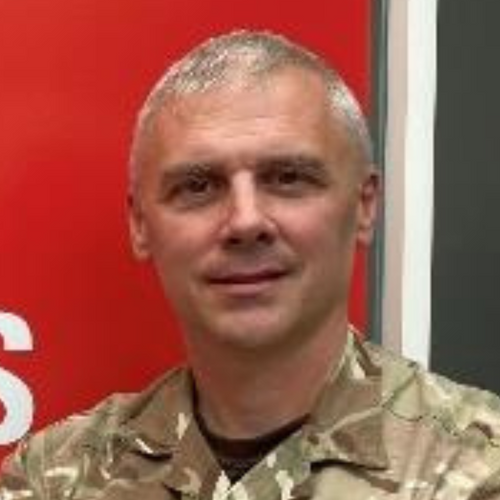 Brigadier Chris King
Head Military Capability Plans, Army Futures
,
British Army
United Kingdom
Brigadier Chris King commissioned into the Corps of Royal Electrical and Mechanical Engineers in 1993. As a junior officer, he served in the armoured role in both the United Kingdom and Germany.
On promotion to Major and following completion of the Intermediate Command and Staff Course (Land), he undertook his initial staff appointment in Abbey Wood, as the requirements manager for the Close Armour IPT. In 2008 he took command of 5 Armoured Company, 3 Close Support Battalion REME, deploying the Company on Operation HERRICK 9. Thereafter, he spent two years working in MOD Main Building as the Chief of Staff of the Special Projects Capability Branch.
Brigadier King completed the Advanced Command and Staff Course and the King's College Defence Studies Master of Arts in 2013, after which he took up post as Military Assistant to the Chief of Materiel (Land) and the Quartermaster General. In June 2015 he assumed command of 2 Close Support Battalion as it arrived in Leuchars, Scotland. In August 2017, he assumed the appointment of Assistant Head Capability Plans in the Army Headquarters and was subsequently selected for and attended the Higher Command and Staff Course in 2019. He returned to Abbey Wood in September 2019 to lead the Warrior Capability Sustainment Programme.
Brigadier King took command of 104 Theatre Sustainment Brigade in September 2021. Under his tenure, the Brigade played pivotal roles on Op PITTING; the British withdrawal from Afghanistan, Op INTERLINK, when in February 2022 he deployed the HQ to establish and evolve the International Donor Coordination Centre as it cohered the flow of multinational military aid into Ukraine, as well as Op POLAR BEAR the Non-Combatant Evacuation from Sudan.
Brigadier King is currently Head Military Capability Plans within the Futures Directorate of Army HQ, a post he assumed in June 2023.