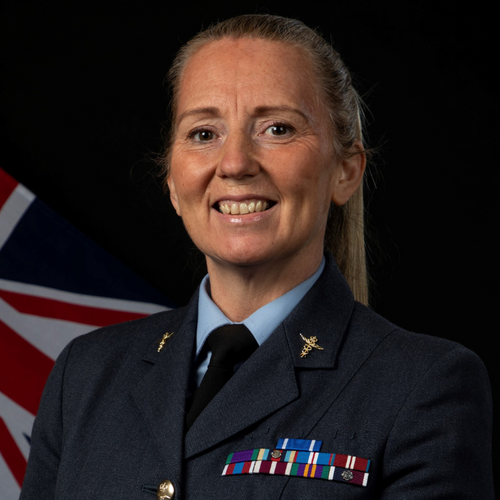 Warrant Officer Caroline Cooper MSc
RAF Astra Core Team
,
Royal Air Force
United Kingdom
Caroline joined the Royal Air Force in 1991 as a Medic. She has extensive experience operating at home and overseas within single-Service and tri-Service arenas. With balanced experience at all ranks between the frontline and working in higher headquarters, one of her most memorable experiences was coordinating the military medical response to support the civilian emergency services in during the London bombings in 2005. She has also amassed considerable operational experience conducting aeromedical evacuations in Northern Ireland, Bosnia, Zagreb, Ascension Island and Afghanistan.
She was the first Warrant Officer appointed as the WO RAF Medic advisor, responsible for the largest medical profession in the RAF. She worked relentlessly to source and deliver an accredited pathway and funding to offer all the Medics the opportunity to gain civilian qualifications from NVQ to Masters. As Station Warrant Officer at RAF Benson in 2017, on a busy, operational MOB, she aligned the Stn closer to universities and today's Aviators, creating and leading a Freshers' Fair for new Stn personnel that built connections, developed a cohesive identity and promoted inclusivity.
As a founding member of the Astra Core Team in 2020, re-establishing the innovative culture and delivering strategic effect to drive grassroots innovation within the RAF. Empowering and mentoring the ideators and Intrapreneurs driving innovation across Defence. She is also leading the delivery of Pj MINDSET delivering outward mindset facilitation to improve resilience, enhance leadership, and organisational effectiveness across Defence. Recently selected as Command Warrant Officer UK Space Command, she is excited about this opportunity to help shape the Cmd's vision and make space safe, secure and sustainable.
Already successfully completed an MSc in leadership, Caroline is currently a Global Doctoral Candidate with Durham University – Em-ylon Business School studying Leadership and Innovation.