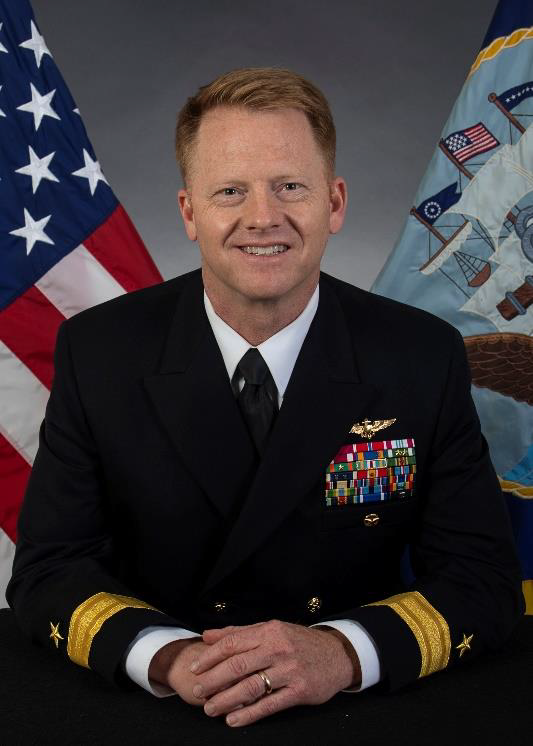 Rear Admiral Benjamin Reynolds
Director of Maritime Headquarters U.S. Naval Forces Europe-Africa/U.S. 6th Fleet, US Navy
Rear Admiral Ben Reynolds is a native of Jones, Oklahoma and a 1992 graduate of the U.S. Naval Academy where he earned a Bachelor of Science in Economics. He also holds a Masters in National Security and Strategy from the National War College, a Masters in Systems Analysis from the Naval Postgraduate School, and a Masters in International Affairs from George Washington University.

Reynolds commanded Helicopter Sea Combat Wing Pacific and the Island Knights of Helicopter Sea Combat Squadron Two Five (HSC-25) in Guam, deploying twice to Iraq while at HSC-25. Previous operational assignments include Tactics Officer in Helicopter Combat Support Squadron Six (HC-6), deploying in support of Balkans and African operations. He was Tactics Officer and Maintenance Officer in Helicopter Sea Combat Squadron Two Six (HSC-26) where he deployed in support of Haiti relief operations, as well as part of NATO Standing Naval Forces.

Rear Admiral Reynolds' last staff assignment was Director of Operations (FMB1) for the Office of the Assistant Secretary of the Navy (Financial Management and Comptroller), Previous shore assignments include: N3 operations action officer on the CNO's staff; flag aide to the Deputy CNO for Plans, Policy and Operations (N3/N5); flag aide to the Commander U.S. Naval Forces Central Command / U.S. FIFTH Fleet; Joint Staff Action Officer in the Joint Operations Directorate, J-3; Executive Assistant to the Joint Staff Deputy Director for Regional Operations; and Operations Analyst and Executive Assistant for CNO's Assessment Division (OPNAV N81 and N00X).

In his current assignment, RDML Reynolds is the Director of Maritime Headquarters (N5) supporting naval component theater engagement development, resource programing and operational planning in support of U.S. European Command and U.S. Africa Command.

Rear Admiral Reynolds's personal decorations include the Legion of Merit, Bronze Star, Defense Meritorious Service Medal, Meritorious Service Medal, Air Medal, and other unit and campaign awards.