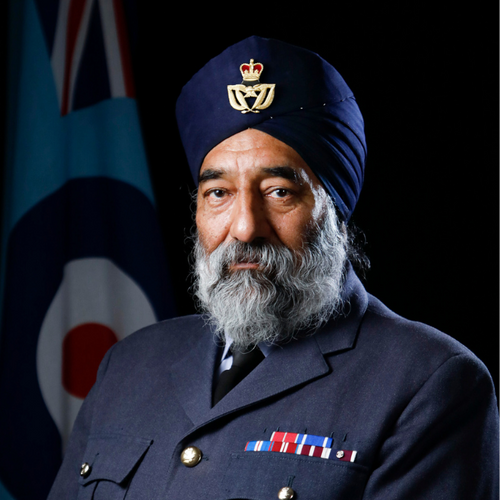 Warrant Officer Balbir Singh 'Bali' Flora MBE, BSc(Hons)
Careers Engagement
,
Royal Air Force
United Kingdom
Flora joined the RAF in 1977, after completing basic and Logistics Supply training, was posted to RAF Halton working in the Technical Stores, then to Gutersloh in Germany a year later in domestic and accommodation stores with a deployed/exercise role of Field Supply duties on the Harrier and Helicopter exercises.
Moved to Cottesmore in 1981, worked in Priority Progression Cell and Engineering Operations dealing with the arrival of the new Tornado aircraft. Returned to Rhinedahlen in Germany on promotion to Corporal working in Accommodation Stores, Supply Control and Accounts and 11SU. He returned to Henlow's R&D as a specialist packer and completed a Falklands tour at 751SU, Mt Alice in 1989. Posted to Gutersloh in 1990 to Logs Sqn in support of the Harrier and Helicopter Flyaway packs and field supply duties playing a vital part in support to Op GRANBY and the relocation of the unit to Laarbruck.
Posted on promotion to Sergeant to Coningsby's Base Supply Flight he saw an opportunity to join the RAF's recruiters, where his role was to promote, engage and assist with recruiting more minorities. Awarded an MBE in 2005 Queens Birthday Honours, he was promoted to Flight Sergeant and posted to Honington as the Force Protection Force HQ Supplier managing their equipment scales, annual training ammunition entitlement and all their pre and deployed requirements on Op HERRIC and TELIC. Deployed on Op TELIC to Seeb in Oman, he played a pivotal role to turn around the unit to pass an external quality audit, he was awarded a Meritorious Service Medal on the 2008 New Year's Honours List.
In 2009, moved to No1 Expeditionary Logistics Sqn at Wittering, responsible for the daily support to the Station, ensuring staff/ teams were trained and at ready to support deployed operations including TELIC, HERRIC and ELLAMY. He retired from regular service in July 2014 and was head hunted for engagement duties in 2017 when he re-enlisted into the FTRS (Full Time Reserve Service).