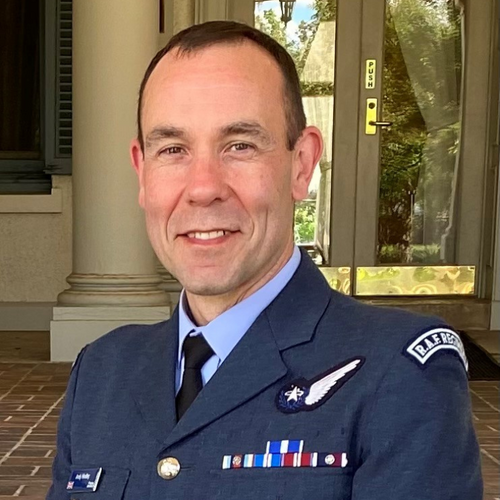 Group Captain Andy Hindley
Director Joint Force Space Component
,
UK Space Command
United Kingdom
Joining the RAF following a RAF Sixth Form Sponsorship he graduated from RAF Regiment Officer training at RAF Catterick and served as an RAF Regiment Officer in a variety of roles until injury cut that part of his career short.
He transferred to the Operations Support (Flight Operations) specialization on its inception and as a Flight Operations Officer he has worked with multi-engine, fast-jet and rotary-wing aircraft including operational tours in Kosovo, multiple times in Afghanistan and running fire stations during Op FRESCO. Staff tours have included instructing, Resources and Plans, Career Management, Defence Engagement, and Chief of Staff in the RAF Transformation Team.
A graduate of the Joint Services Command and Staff College, as a Wg Cdr he Commanded the Operations and Administration Wings at RAF Shawbury as well as fulfilling the Deputy Station Cdr role. A change of domain led to a role in Air Capability as SO1 Space where he was Programme Manager for the upgrade of the UK Space Operations Centre. Promotion to Group Captain saw him fulfilling a diverse set of duties for the Battlespace Management Force and changed the Space focus to Operations including responsibility for the UK Space Operations Centre and RAF Fylingdales. The formation of UK Space Command on 1 Apr 21 saw him establish the Joint Force Space Component (JFSC) becoming Director JFSC, commanding all operational aspects of UK Space Command.