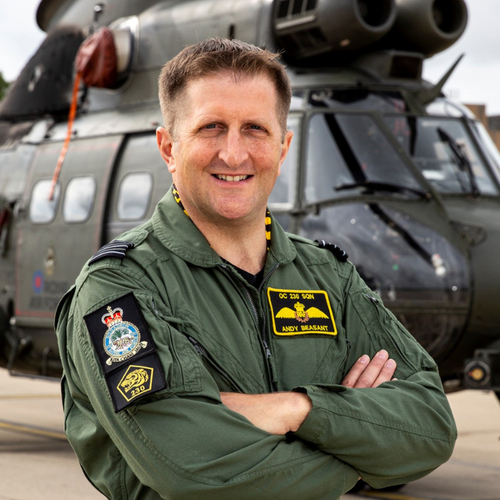 Group Captain Andy Beasant BEng MSc RAF
Deputy Head Space Ops Capability
,
UK Space Command
United Kingdom
Gp Capt Beasant joined the Royal Air Force in 1999 after studying Civil and Structural Engineering at Sheffield University and completing Elementary Flying Training on Yorkshire University Air Squadron. He qualified as a Puma HC Mk1 pilot in 2001, joining 230 Squadron in Northern Ireland flying in support of Operation BANNER. He was then posted to 33 Squadron, RAF Benson where he became a Qualified Helicopter Tactics Instructor and the Standards Officer. He completed 11 operational detachments on Operation TELIC and Operation CRICHTON.
On promotion in 2009, Beasant converted to the Merlin Mk3/3a and assumed command of A Flight, 28(AC) Squadron. During his flight command he deployed on Operation HERRICK and then assumed the role of Second in Command. He then moved to the Ministry of Defence to be the Aircraft Platform Protection Desk Officer within Capability Theatre Airspace. This post was then moved mid-tour to HQ Air Command under Air Capability, following the disaggregation of the capability areas to Front Line Commands. On completion of this tour Beasant completed a deployment in support of a discrete operation as an Air Advisor.
In 2014, he was promoted and completed a short tour as SO1 Protection of Air Operations within Air Capability, before being posted to the United States of America to complete the Advanced Command and Staff Course within the Joint Advanced Warfighting School in 2015. He then returned to assume the post of SO1 Current Commitments within Joint Helicopter Command. During his conversion to Puma HC Mk2, he completed a short operational deployment as National Component Commander on Operation NEWCOMBE in Mali, before command of 230 Squadron in March 2020, deploying on Operation TORAL in Afghanistan and as Commanding Officer of Aviation Task Force 3 on Op ALUMINIUM in Lithuania.
In 2022 he was promoted to Group Captain as Deputy Head of Space Operations Capability at HQ Space Command.