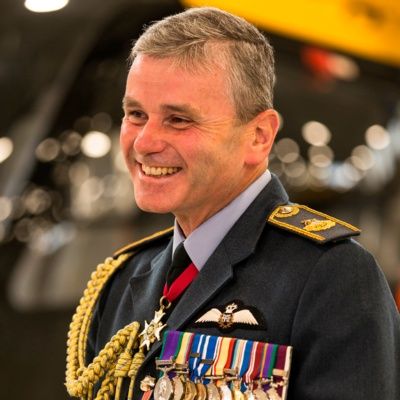 Air Marshal Andrew Turner CB CBE
Deputy Commander Capability, Royal Air Force
As Deputy Commander Capability of the Royal Air Force, Air Marshal Turner is responsible for delivering the RAF Strategy through people, equipment, digital, training, infrastructure and support to ensure the Service can deliver air and space power for the nation and project power and influence around the World.
Air Marshal Turner was born in 1967 and commissioned into the Royal Air Force in 1985. He was educated at Kingswood School in Bath, the RAF Colleges Cranwell and Bracknell, the Indian Staff College, the UK Higher Command and Staff College, the Royal College of Defence Studies and the UK Pinnacle and US Capstone courses. He has studied at Oxford, Exeter, Kings College London, Chennai and the Open Universities earning a master's degree in international Relations, a master's degree in Strategic Studies and a first degree in Oceanography and Cosmology.
A helicopter pilot with 5100 flying hours, on 87 types of aircraft, 1850 of those on 22 operational tours in Northern Ireland, Central America, Saudi Arabia, Iraq, Kuwait, Bosnia, Kosovo, India, Albania, Pakistan and Afghanistan. He has commanded 28 (AC) Sqn, RAF Odiham, the UK Merlin and UK Chinook Forces, the Special Forces Aviation Wing, the Puma Force in Kosovo, Merlin Force in Iraq, the Chinook, Apache, Lynx and Sea King Forces in Afghanistan and No 22 Group. He has completed staff appointments in the UK MoD as the Director of Operations, strategic planning and media, PJHQ as the head of military planning, Washington as CDS' Liaison Officer and in brigade, division and corps headquarters.
He holds Presidencies of No 1827 (Odiham) ATC Squadron, RAF Sports Parachute Association, RAF Polo Association and UK Armed Forces Rowing Association; Vice Presidencies of the RAF Charitable Trust, RAF Rugby Union and RAF Club in Piccadilly; is an Upper Freeman of the Honorary Company of Air Pilots, Fellow of the Royal Aeronautical Society, Companion of the Chartered Management Institute; and an oarsman in the Upper Thames and RAF Rowing Clubs and a member of the mounted Light Cavalry in Windsor Great Park.
He was appointed as an Officer in the Most Excellent Order of the British Empire (OBE) in the 2003 Birthday Honours and was promoted to Commander (CBE) in the 2010 Birthday Honours. He was appointed a Companion in the Most Honourable Order of the Bath (CB) in the 2019 New Year Honours.