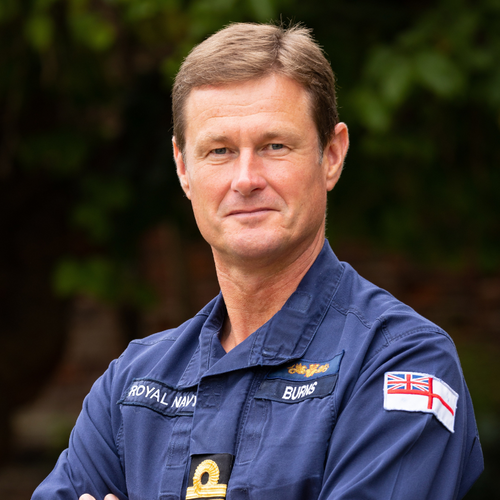 Vice Admiral Andrew Burns CB OBE
Fleet Commander
,
Royal Navy
United Kingdom
Andrew Burns was appointed Fleet Commander in September 2021 and commands all operational arms of the Royal Navy (Surface Flotilla, Submarine Flotilla, Fleet Air Arm, Royal Marines and Royal Fleet Auxiliary). This includes their generation for task and operational effectiveness. He is the Chief Naval Warfare Officer and the Gender Advocate for the Royal Navy.
Andrew joined the Royal Navy in 1989 later qualifying as a Bridge Watch-keeping Officer, Fighter Controller and Principal Warfare Officer. He has been privileged to command the mine countermeasures vessel HMS Berkeley, the frigate HMS SOMERSET and the amphibious assault ship HMS BULWARK. He was appointed OBE in 2015. Promoted to Commodore, he commanded the Amphibious Task Group, which included a period in command of the US Fifth Fleet Combined Task Force 50 as the Principal Warfighting Commander. More recently, he was Commander United Kingdom Strike Force, the Royal Navy's deployable 2* operational commander, and Rear Admiral Surface Ships, the head of the Surface Flotilla Fighting Arm.
Shore appointments have included: the National Contingent Headquarters for Operation TELIC; the Multinational Force Headquarters (Baghdad); Directorates of Special Forces and Strategic Plans in the Ministry of Defence; Commander Sea Training; Joint Forces Command as the Principal Staff Officer to the Commander; Assistant Chief of Staff Ships in NCHQ; and latterly, Director Develop, responsible for the future design and capability of the Royal Navy. He was appointed CB in 2021.