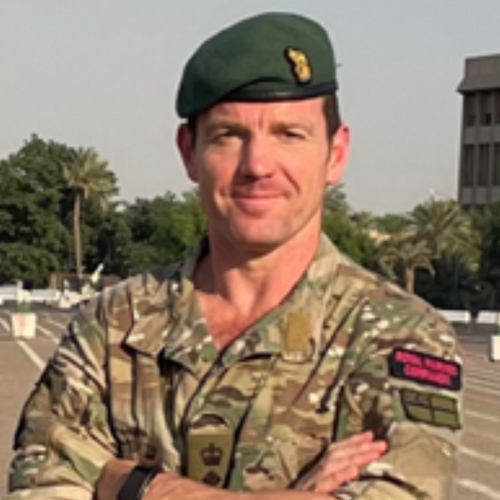 Colonel Aaron Fisher
Commandant Training Management Group
,
Royal Navy
United Kingdom
Colonel Aaron Fisher joined the Royal Marines in 1996 and upon completion of Young Officer training joined 40 Commando RM as a Troop Commander. Subsequently, he served with both 45 Commando RM and the Fleet Protection Group Royal Marines, completing operational deployments in Bosnia, Kosovo, and Iraq.
In 2005 he joined Headquarters 3 Commando Brigade during which time he deployed to Afghanistan. A two-year assignment in the MOD, working in the Ground Manoeuvre Capability Area, was followed by Company Command at 42 Commando RM and a second tour of Afghanistan. He subsequently deployed to the Democratic Republic of Congo with the United Nations.
In 2012 he graduated from the Advanced Command and Staff Course, before spending a year with the British Peace Support Team in South Africa. Upon returning to the UK he spent two years as a member of the Directing Staff on the Intermediate Command and Staff Course (Land) at Shrivenham. Thereafter, he was selected to command the Specialist Training Wing at the Commando Training Centre. In 2019, he was assigned to Navy Command as the Royal Marines Officer Career and Talent Manager. Prior to assuming the role of Commandant Training Management Group, he deployed as the Deputy Director Operations in support of the US led Combined Joint Task Force in Iraq and Syria.