RAF to highlight need for strong UK defence industrial base during DSEI show

Engagement with industry is among the UK Royal Air Force's (RAF's) main objectives as it prepares to participate in the first DSEI exhibition since Russia's invasion of Ukraine.
"When we look at the core priorities, things have changed since IR21," says Air Commodore Jim Beck, assistant chief of staff, capability strategy, referring to the UK Ministry of Defence's (MoD's) integrated review publication of early 2021. A refreshed document was issued in March 2023, taking note of the conflict in eastern Europe.
"It's changing public perception, as we move out of the 'grey zone' into proper conflict as opposed to just competition," Beck told FlightGlobal ahead of the 12-15 September show. "That's the backdrop where DSEI falls – where we are conducting the forensics of what resurgent Russia looks like.
"Geographically we are more focused on the Atlantic than we have been since the end of the Second World War, or at least the Cold War," he says. "We understand that our doorstep is heating up massively." This comes as the UK also has stepped up its planning for the potential for future conflict in the Asia-Pacific region.
With the USA and other NATO nations having spent the last 18 months equipping Kyiv's forces with vitally needed defensive equipment, focus has turned to equipment levels and the ability to restock supplies.
"This is one of the biggest lessons we have taken from Ukraine: a sovereign defence industrial base has become strategic," Beck says. "Logistics, supply lines and an industry that can deliver in a wartime environment is something we really need to consider, and how we go from 'just in time' to actually on a war-footing.
"Our defence industrial base is as critical as our own warfighting capability, because it's intrinsic to us being able to sustain a war-footing."
Another point of attention for show-goers visiting London's ExCel centre will be the Global Combat Air Programme (GCAP); an initiative between Italy, Japan and the UK to jointly develop and field a new manned fighter and accompanying capabilities for use from 2035.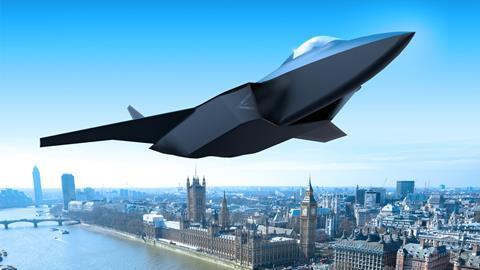 Source: BAE Systems. The UK will field a sixth-generation Tempest fighter from 2035, in partnership with Italy and Japan
Beck notes that 80% of the UK's annual defence exports are aerospace-related, and that the MoD's goal is to maintain this performance.
"It needs to be compelling to fit our force design, and also attractive for export," he says of a future fighter. "We need that capacitance that exports create, to grow economies of scale for our sovereign defence industrial base, and to create that mass. Unless GCAP sells lots, we won't have a defence industrial base that is geared and mechanised to do great power wars, so we can contribute into NATO with credibility. That becomes a compelling deterrence factor."
Beck also points to the importance of the ECRS Mk2 active electronically scanned array (AESA) radar upgrade for part of the RAF's fleet of Eurofighter Typhoons as enabling future capability.
"ECRS Mk2 is as important to Typhoon as it is to GCAP," he says of the project, under which BAE Systems will lead integration of the Leonardo UK-supplied AESA array onto 40 Tranche 3 Typhoons. This will take the type to a so-called 'Gen 4.5' standard, and "means we are ready to deliver cutting-edge capability into GCAP", he notes.
Although modest in size, the AESA-equipped Typhoon fleet will form part of a mix also including the UK's Lockheed Martin F-35B Lightning IIs. "It's more important to have a survivable platform than many [aircraft] that are less survivable," Beck says. "Without ECRS Mk2 we are not going to have control of the air."
With its combat air assets to work in combination with the RAF's Boeing RC-135 Rivet Joint signals intelligence fleet and future Boeing E-7A Wedgetail airborne early warning and control and battle management platform, he says: "We are going to be able to shape the battlespace at ranges that the enemy can't affect us.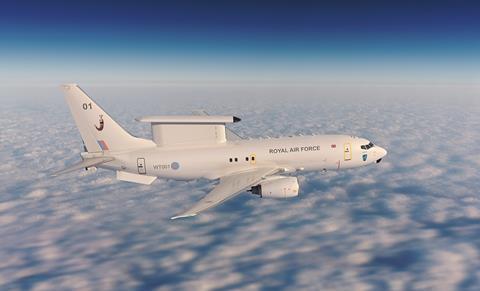 Source: Crown Copyright. The RAF will add Boeing's E-7A Wedgetail to its fleet
"From an air force perspective we have pretty much recapitalised our entire fleets," he notes, adding: "air is in a strong position.
"We are a fifth-gen player, but discussing sixth-gen. We are focused on a 2035 datum: we are not focused on answering the question of 2023," says Beck, whose flying experience has included the Panavia Tornado GR4 and F3, plus the F-35B and serving as the UK's Lightning force commander. Other key updates will include adding MBDA's Spear Cap 3 air-to-surface missile onto the F-35, he notes.
Other capabilities to be promoted at the show by the RAF will include the service's simulation-based training advances made via an effort named Gladiator.
"We recognise that the next war is in the synthetic environment," Beck says. "Peacetime training has become ever more difficult because of satellite [surveillance] windows: there are techniques that we just don't want to expose in the real environment."
The RAF also will be showcasing the Nexus command and control infrastructure, which he says will be "at the centre of everything we will be demonstrating".
"Nexus is an incredibly novel architecture that changes the way we send data," he explains. "I, as a sender into the network, will fire metadata – small packets of what I have seen but that is not relevant to me – and if someone finds that of interest they can come and grab it. It also will take any product of any format and can patch them together and fuze them into a correlated track, and can even do internet scrapes to correlate those geographic positions."
He describes such a capability as a key advance for service, as it will reduce bandwidth usage by only sending the information that is required, and also protect datalinks.
Beck says Nexus is scheduled to undergo flight-test aboard an F-35 before the end of this year, and will in the future be integrated with all of the RAF's widebody platforms. He notes that the system is the UK MoD's intellectual property, and also compatible with the US Air Force's Advanced Battle Management System, US Army's Convergence and US Navy's Overmatch technologies.
"I'm taking the entire capability strategy team [to the show], so all pillars of air power from now to the future: ISTAR, air mobility, control of the air and attack will all be there, and all the integration teams, so that they can invest into industry, so we can have a proper futures discussion," Beck says.
"Our light blue [uniform] service personnel are not the be all and end all for the good ideas. We are challenging industry to come up with white papers, think pieces, or [to tell us] what do you think the future of warfare looks like? What do you think winning looks like, and what do we need to do to win? This is intended to be very much a two-way forum."
FlightGlobal will be reporting from DSEI, as the event's official aerospace domain media partner.