Friday 18 August 2023
How the Next Generation of Performance Fabrics is Overcoming the Age-Old Problem of Inner Condensation
News Article
Future tech
DSEI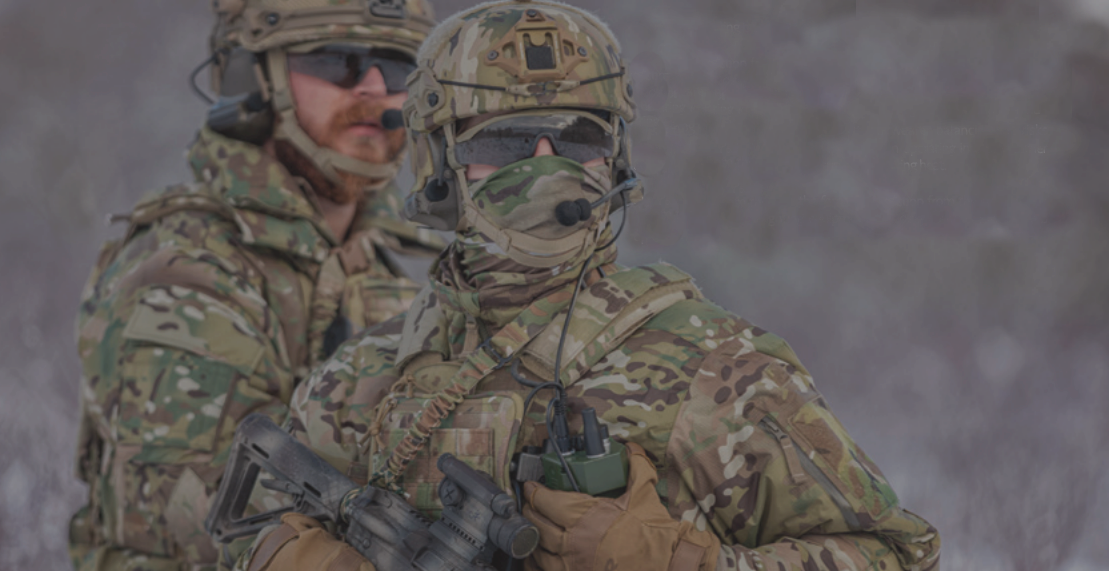 When measuring breathable fabrics (ISO11092), the standard international test method is conducted under dry conditions – which uses an inside temperature of 35°c and an outer temperature of 35°c with 50% humidity which has a comparable environment to the Sahara Desert.
Recent research conducted by the University of Leeds shows that after an hour in wet, cold conditions - all breathable, waterproof fabrics stop transmitting moisture resulting in condensation forming inside the garment. This means that under layers become damp and leave the wearer feeling uncomfortable.This can be lethal in cold conditions, with hundreds of soldiers every year experiencing non-freezing injuries, frostbite, and hypothermia which not only puts soldiers out of action but costs the Ministry of Defence millions of pounds in compensation claims.
So, when it comes to safety and comfort, innovation is incredibly important to ensure the wearer can be out for longer – this is where Keela Tactical come in with their innovative System Dual Protection technology.

What is SDP?
SDP is the world's only outdoor clothing technology that manages condensation in both wet and cold environments.
Utilising a double membrane principle, the outer uses a waterproof, breathable material with a hydrophilic coating and the inner lining layer is manufactured from star structures yarn laminated to a hydrophilic film with an air gap in between.
This not only makes it waterproof, windproof, and breathable – but it can manage the condensation to improve conditions and comfort for the wearer.

How does system dual protection work?
Varying weather conditions can affect the breathability of a garment, so when facing conditions of heavy rain and cold conditions (0c to 10c), waterproof garments can experience the 'occurrence of dew point', or 'cold bridging'.
As a result, there is a rapid build-up of condensation, and once a wall of condensation forms, the perspiration cannot pass through and remains inside the garment. The effect this will have a warm body of 32° c means the wearer will struggle to cope with the conditions and become uncomfortable.
SDP uses two membranes with an air gap in between, like that of a double-glazed window – stopping warm air from being in contact with cold air, reducing cold bridging and condensation, and the air gap keeping the body warm.
The two membranes then ensure the garment remains breathable in the lesser conditions – with the outer layer of waterproof, breathable fabric working to protect from outside conditions. The inner layer is a revolutionary high-wicking liner, laminated onto a hydrophilic film, acting as a sponge, absorbing any moisture or water vapour inside the jacket and transporting it away from the body. Once through the lining and inside the air gap, the waterproof lining ensures the moisture cannot wick back to the body. Condensation then travels through the air gap and escapes through the breathable outer layer at its own rate.

Putting SDP to the Test
To show the power of SDP technology, Keela Tactical will be demonstrating how the system works at the upcoming DSEI event against conventional systems – using a condensate test apparatus that is the only piece of testing equipment that can measure condensation in both wet and dry conditions.
Unlike ISO11092, that only works in hot and dry conditions and with one parameter – favouring only certain materials for them to claim high rates of Moisture Vapor transfer (Breathability). The parameters of this test are purposely done to stop condensation from happening on the test samples so that it will achieve a breathability result which is not realistic.

Advantages of SDP
The far-reaching advantages of utilising SDP technology include:
Two layers of waterproof fabric that help to increase protection.
SDP uses two membranes to increase durability, meaning the garment will still perform even if the outer layer is torn or damaged.
The air gap in between the layers provides a thermal barrier, protecting against heat loss, and reducing the need for additional layers.
A hydrophilic membrane rapidly transports moisture from sweat and condensation away from the body, keeping you dry and comfortable, even in the rain.
Rapid moisture transport reduces the build-up of condensation next to the body in cold, wet conditions, keeping you dry and comfortable.
System dual protection aids the regulations of body temperature to minimize shivering during periods of no activity and can reduce cold injuries.
Learn more about Keela Tactical and it's collection of innovative fabric solutions by clicking here.
---
Secured your ticket to DSEI 2023?