Wednesday 31 May 2023
Minister for Defence Procurement Speaks at DSEI Parliamentary Reception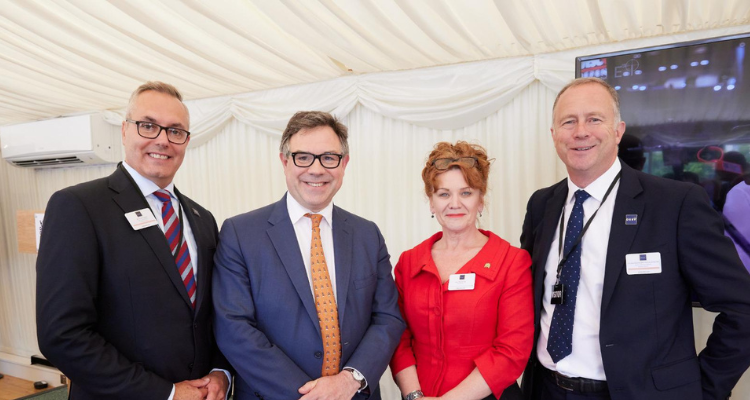 MINISTER FOR DEFENCE PROCUREMENT SPEAKS AT DSEI PARLIAMENTARY RECEPTION
The Minister for Defence Procurement, Jeremy Quin MP, gave the keynote address at the DSEI Parliamentary Reception on Wednesday 29th June. The reception provided an excellent opportunity for parliamentarians, prime contractors, SMEs, members of the armed forces and defence media to hear more about the role that DSEI plays at the heart of the UK and global defence industry. Over 150 guests listened to speeches from DSEI spokesperson (Retd) Air Vice Marshal Gary Waterfall, the event's sponsor Sarah Atherton MP and the Minister for Defence Procurement.
During his speech the Minister Jeremy Quin MP said: "I'm enormously proud that we hold the world's leading defence and security event in the capital and proud that we have an event attended by tens of thousands and our allies from across the world. But I am proud most of all, of the immense opportunity it offers us, an opportunity to showcase the fantastic capabilities of more than 1,000 defence and security suppliers… The message we're sending to our allies is that there has never been a better time to buy British."
Grant Burgham, DSEI Event Director, commented: "DSEI offers a crucial opportunity to foster vital integration between the UK MOD, the Department for International Trade, defence suppliers and industry partners. We were delighted to host Minister Quin and his parliamentary colleagues in Parliament. The Minister's words gave vital insight to the value that is placed on UK defence suppliers, especially since Russia's invasion of Ukraine and the impact that has had to NATO and across Europe."
Held biennially, DSEI connects governments, national armed forces, industry thought leaders and the global defence and security supply chain on an unrivalled scale. The event is curated to consistently support both the prime contractors as well as small and medium-sized enterprises while, crucially, giving the UK exports a significant boost. On a rolling 10-year basis, the UK remains the second largest global defence exporter after the USA. Furthermore, the UK has just committed to increasing its overall defence spending to 2.5%, by the end of the decade investing in vital capabilities like future combat air, while simultaneously adapting to a more dangerous and competitive world.
DSEI will take place at ExCeL London 12-15 September 2023.