Tuesday 13 December 2022
Deputy Commander of Strategic Command says "DSEI is a Learning Platform and a way of Building Resilience"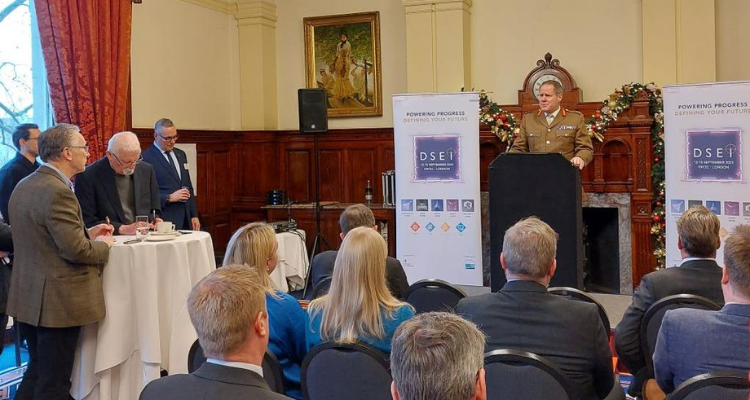 Lieutenant-General Tom Copinger-Symes, CBE was speaking to media at a DSEI Event last week
The government's overarching theme for DSEI 2023 was launched last week at an event in central London attended by guests from media and industry, where they heard about the role DSEI plays at the heart of the UK and global defence industry.
Guests listened to a keynote speech from Lieutenant-General Tom Copinger-Symes, CBE, Deputy Commander of Strategic Command, alongside speeches from Mark Goldsack CBE, Director of UK Defence and Security Exports at the Department for International Trade, DSEI spokesperson (Retd) Air Vice Marshal Gary Waterfall and DSEI Director Grant Burgham. In a wide-ranging speech Lt General Copinger-Symes spoke to the overarching theme for DSEI 2023 of 'achieving an integrated force' and how one of Strategic Command's purposes is to drive integration in the Armed Forces. He set this against the experience of Covid, and how it has taught both the UK and the world about integration and dis-integration. Lt General Copinger-Symes also spoke about the importance of DSEI as a learning platform and how lessons in resilience can be learnt from the war in Ukraine. Whilst hardware is still important, it's the platforms and software that now give nations their competitive edge. Expanding on this point he outlined three key areas: how analysis of data provides precision, automation provides speed to decision making and autonomy of machines working with humans generates more mass. Software and technology companies will play a key role in DSEI 2023, with the event providing a platform for discussions around Digitalisation, Cyber Security, AI and Data Analytics. The Future Tech hub at DSEI is three times bigger then 2019, with many new "non-traditional" defence companies already signed up, demonstrating the reach DSEI has in these new areas of defence.
Speaking afterwards Lieutenant-General Tom Copinger-Symes, CBE, Deputy Commander of Strategic Command said: "It was a pleasure to speak at the launch of DSEI 2023 and engage with Defence media and representatives across industry. DSEI is a great forum for complex and diverse interaction between people with different skillsets and different mindsets, but all united by the common purpose of protecting the nation and helping it prosper."
Grant Burgham, DSEI Director, commented: "DSEI offers a crucial opportunity to foster vital integration between the UK MOD, the Department for International Trade, defence suppliers, industry partners and the media. The exhibition space is nearly sold out and on track to be the biggest in the event's 24-year history. It is great to see the growth of the event with over 200 new exhibitors signed up with ten months still to go and the biggest growth areas being space and future tech. We were delighted to host Lt General Copinger-Symes and Mark Goldsack to hear their views on how DSEI is an important milestone in the defence calendar."
Held biennially, DSEI connects governments, national armed forces, industry thought leaders and the global defence and security supply chain on an unrivalled scale. The event is curated to consistently support both the prime contractors as well as small and medium-sized enterprises while, crucially, giving the UK exports a significant boost. On a rolling 10-year basis, the UK remains the second largest global defence exporter after the USA.
DSEI will take place at ExCeL London 12-15 September 2023.