Thursday 10 August 2023
British Army Reshapes Training in line with Ukraine Lessons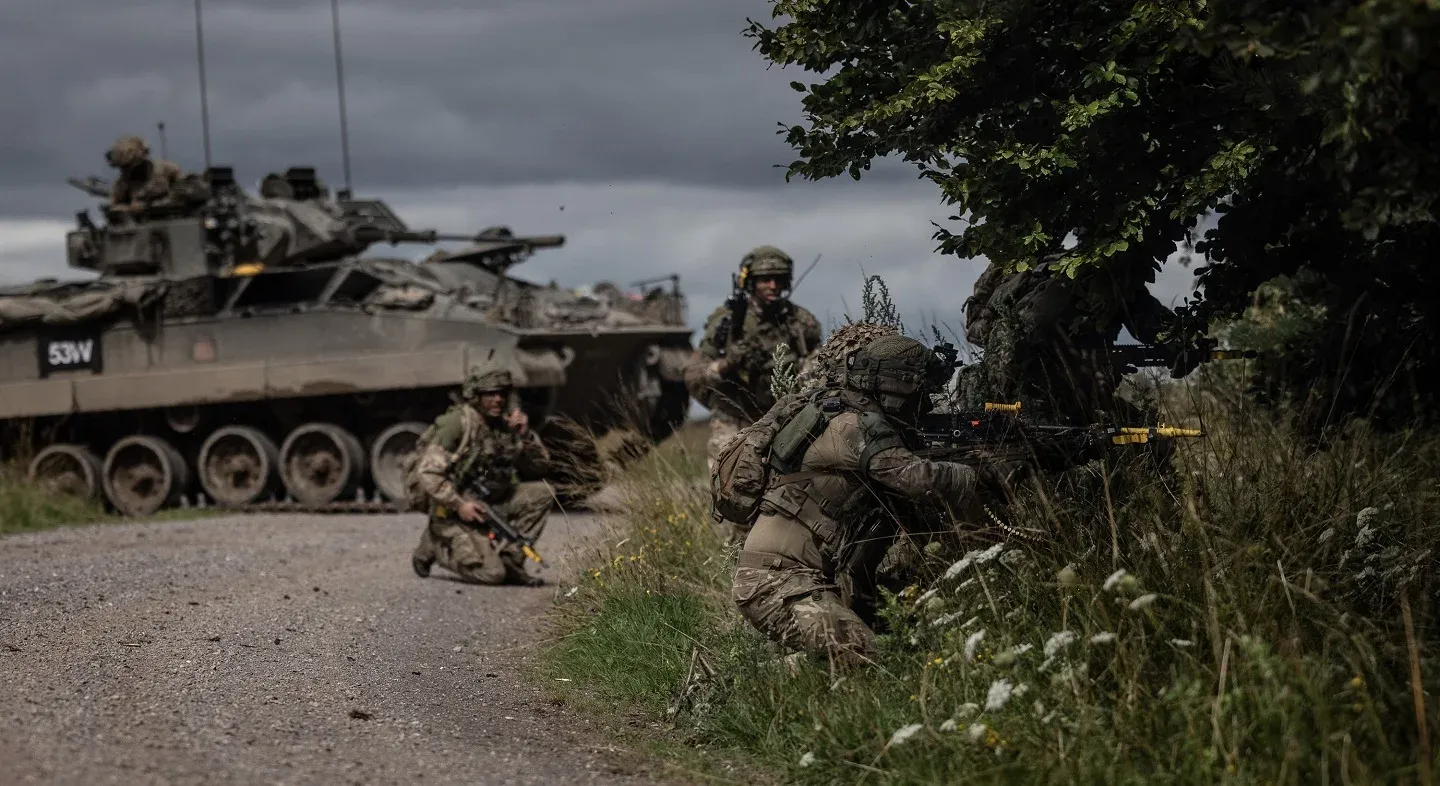 The Army's exercise Iron Cyclone re-generates "basic skills and mastering combined arms competency" for the modern warfare observed in Ukraine.
The British Army is "regenerating basic skills and mastering Combined Arms competency" in its pilot exercise, Iron Cyclone, at Salisbury Plain this week.
By reshaping its basic skills, the British Army will adapt to the new workings of modern warfare demonstrated in eastern Europe.
Lieutenant Colonel Peter Perowne, Commanding Officer of the King's Royal Hussars – a contingent due to be deployed to Europe next year – explained: "This exercise was about re-enforcing the ability to war fight from the lowest level, taking the lessons we are seeing come out of Ukraine and those we have learnt as a battlegroup [in] Estonia."
The British Army has refocused on a Combined Arms approach to warfare because of the attritional warfare fought in Ukraine. The Ukrainian military face invading Russian forces in a range of environments: from brutal urban warfare in Bakhmut to overcoming fortified networks in the south and east of the country.
This modern approach will make use of appropriate combat arms units for specific objectives in certain environments.
Restructuring Army training upon the lessons learned in Ukraine comes as a result of the UK Ministry of Defence's (MoD) recent military strategy outlined in the Defence Command Paper (DCP) Refresh, published in July this year.
Neglecting any new procurement programmes for more ships, tanks and jets, the document makes no new commitments on platforms at all. "Instead, we [will] focus on how to drive the lessons of Ukraine into our core business," the Minister for the Armed Forces, James Heappey, determined in the Ministerial Foreward of the DCP.
DSEI showcase the British Army's Combined Arms approach based on Ukraine
The British Army has taken on the responsibility of training Ukrainian soldiers on British soil. The Army trains approximately 10,000 personnel every 120 days, as part of a collaborative effort.
The British Army will place significant emphasis on revolutionising the training of the armed forces at the Defence and Security Equipment International (DSEI) event.
"The British Army will focus on the Land Operating Concept and being a net contributor to the multi-domain enterprise at DSEI"
Rear Admiral (Ret'd) Jon Pentreath, the Senior Military Adviser (Land) for DSEI, stated.
The multi-domain focus feeds into its Combined Arms approach as the British Army will employ required capabilities to appropriate situations. This new method requires multi-domain collaboration, to enhance how the armed services operate together.

---

Secured your ticket to DSEI 2023?