Friday 1 September 2023
Boxer Comes to DSEI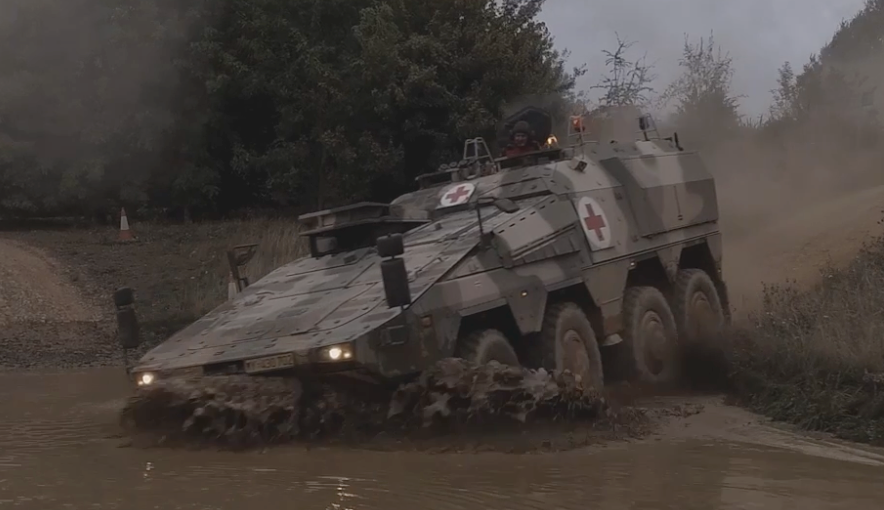 Boxer is a family of highly-mobile, protected and modular 8X8 wheeled vehicles which will deliver a variety of roles for the Army's mechanised infantry.
The UK prototypes will begin industry trials ahead of Defence Equipment and Support (DE&S) commencing its own customer trials in Autumn.
Warrant Officer Class One Gareth McQueen who is one of the military personnel working on the Boxer project, said:
It's going to be an excellent addition to the Armed Forces. It's low logistic need, reach and mobility ensure it's relevant for any global scenario that requires rapidly deployable infantry mass. Everything is subject to trials conformation, but I am confident that it will deliver on mobility, capacity, and agility."
The Boxer vehicles will form part of the Army's Armoured Brigade Combat Teams, set up to deploy rapidly over long distances and then operate across varied terrains.
Packing the punch of a Rolls Royce engine, the 38.5 tonnes Boxer vehicles will be used to transport troops to the frontline to perform a variety of missions, from low intensity peacekeeping to warfighting.
But the Boxer is not just an infantry vehicle, using a modular set-up consisting of a driving platform and different mission modules, it can be rapidly reconfigured to fulfil different roles on the battlefield.
The Army will receive four variants delivering four different roles - an Infantry Carrier, a Specialist Carrier, a Command Post Carrier and an Ambulance.
The digitised armoured vehicle can reach speeds of up to 60mph on roads and is hardened to withstand the heat, shockwaves, and electromagnetic effects of a nuclear explosion.
It has a Nuclear Biological and Chemical protection system to detect and counter threats as well as a 360 degree Situational Awareness System.
The Specialist Carrier will be able to support all the weapon systems currently in service - the heavy machine gun, the general-purpose machine gun (GPMG), the grenade machine gun (GMG) and the JAVELIN anti-tank guided weapon station.
Future-proofed to operate in the digital age, its network-enabled communication systems will work with Bowman but has the capacity to work with future networks to provide secure communications to other combat vehicles within the Brigade Combat Team.
Boxer variants are already in service with various NATO countries including Germany, the Netherlands and Lithuania. In the UK, the Boxer is expected to be delivered to battalions within the Armoured Brigade Combat Teams.
---
Secured your ticket to DSEI 2023?