08 Aug 2023
Suffolk Fire and Rescue's Training Facility Sets New Standards in Firefighting Practices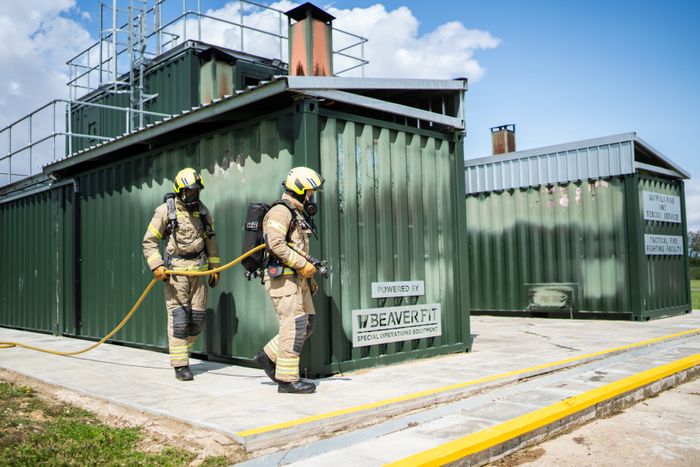 According to the Health and Safety Executive (HSE), realistic, operational training is essential to properly prepare military and public service personnel for combat and rescue operations. Suffolk Fire and Rescue have raised the bar for emergency response and firefighter training with their cutting-edge Carbonaceous Facility. The state-of-the-art facility is revolutionising the way firefighters train and prepare for emergency situations.
Designed to enhance the reactive capabilities of their fire officers, Suffolk Fire and Rescue have ensured that they are better prepared to face a wide range of challenges that come with modern firefighting. The Carbonaceous Facility is designed to enhance the users mental and physical 'react and respond' ability, allowing them to train for as many risks as possible, maximising preparation and minimising uncertainty. Housing multiple training capabilities through their bespoke design process, these solutions amplify the end users' potential by offering critical, simulative training scenarios.
BeaverFit designed, manufactured and installed the multi-storey hyper-realistic Carbonaceous Facility in just a few weeks, comprising of high-temperature burn chambers, roof and staircase gantries, heatproof block flooring and modular internal structures to enable a multitude of practical training activities including flash over, backdraught and working at heights. The Suffolk Fire and Rescue Service have benefited from real-life exercises, in practical scenarios such as live-action and situational activities.
"We take immense pride in the fire training facility at Suffolk Fire and Rescue, which was brought to life through a remarkable collaboration with BeaverFit. This state-of-the-art facility empowers us to excel in various critical areas, including working at height, handling carbonaceous environments, and honing our expertise in breathing apparatus. It stands as a valuable asset to our department, reflecting our dedication to professionalism, training, and the safety of our community."
— BEN WOODFIELD, BREATHING APPARATUS (BA) AND TACTICAL FIREFIGHTING LEAD, SUFFOLK FIRE AND RESCUE
These turn-key solutions are designed to simulate real-life emergency situations, providing trainees with a realistic training experience, providing a safe environment for trainees to practice firefighting techniques and procedures. BeaverFit's shipping container facilities, like the Carbonaceous Facility, remove the need for anchors or groundworks due to their semi-permanent location and portable nature, resulting in faster build times and lower construction costs.
---
Or email info@beaverfit.com to request a brochure.