Ophir® FoldIR, Compact, Folded, Infrared CZ Lens for Aerial Gimbal System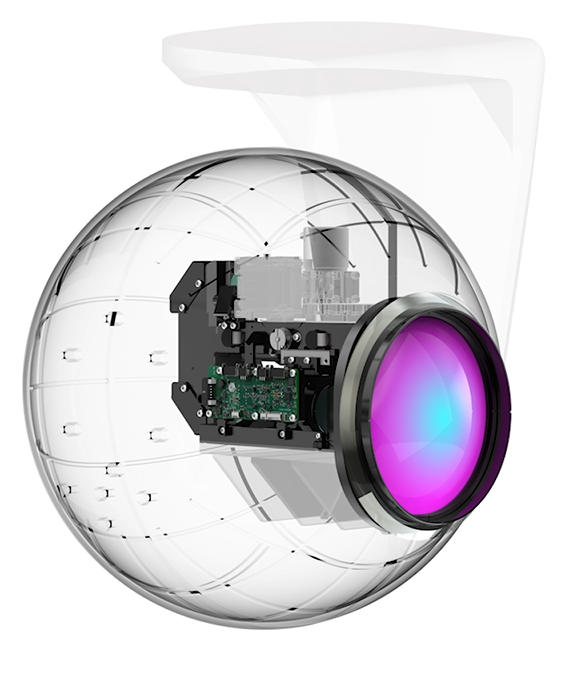 INTRODUCING Innovative folded-optics 30-450mm f/3.4 CZ lens for MWIR 10µm SXGA sensors
The Ophir® FoldIR 30-450mm f/3.4 continuous zoom lens, is a compact folded IR zoom lens for aerial gimbal system and payloads that dramatically minimizes its physical dimensions while decreasing the overall bulk of the integrated system it accompanies.
The FoldIR lens enables extended optical lengths, surpassing 20km, thereby mitigating the impact of tolerances in compact setups.
With its compact form, extended detection range, and exceptional image quality, this cutting-edge lens proves to be the perfect fit for advanced unmanned aerial systems, IR camera gimbals, and payloads.
The new FoldIR 30-450mm f/3.4 lens utilizes a double-folded design to generate small-size, lightweight, small aperture, and long vision (DRI) ranges. Unlike optical extenders, the FoldIR lens is smaller and lighter with higher transmission.
"As the field of infrared imaging applications rapidly advances, the demand for reduced Size, Weight, and Power (SWaP) remains a constant challenge," said Dr. Kobi Lasri, General Manager of Ophir Optics Group. "The adoption of folded optics facilitates long-range, high-performance imaging within compact gimbals and platforms with limited space. This innovative technology opens doors to integrating a large aperture lens with an extensive effective focal length (EFL) and extended
detection, recognition, and identification (DRI) ranges, all while minimizing the overall size of the payload gimbal."
The FoldIR 30-450mm f/3.4 lens incorporates an ingenious opto-mechanical design that maximizes space utilization and delivers exceptional performance even in challenging environments, effectively addressing concerns like line-of-sight (LOS) stabilization and athermalization.
Its unique f/3.4 aperture guarantees superior modulation transfer function (MTF) performance and efficient collection of IR signal, surpassing larger aperture continuous zoom lenses.
With a built-in mechanical shutter and seamless integration with Ophir's specialized control system, the lens enables precise Non-Uniformity Correction (NUC) control, resulting in optimized image quality. These features make the FoldIR lens an ideal choice for advanced UAS imaging systems, producing sharp, clear images across a wide range of conditions.
LEARN MORE: https://www.ophiropt.com/infrared/lenses/foldir-30-450mm-f-3-4/