07 Jun 2023
HD HHI Leads The Expansion Of The Korean Defense Industry To The Seas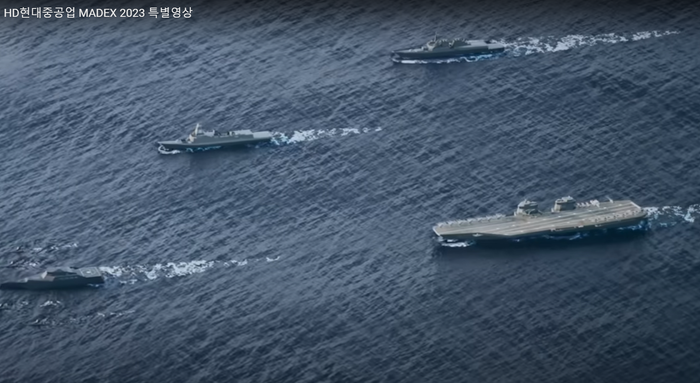 HD HHI Leads The Expansion Of The Korean Defense Industry To The Seas
HD Hyundai Heavy Industries participates in the MADEX 2023, taking place from June 7th to 9th at BEXCO in Busan, unveiling for the first time to the public a variety of advanced naval ship designs and technological capabilities, including the next-generation Korean Destroyer(KDDX), Mother ship for unmanned systems, The CATOBAR variant of the Korean Aircraft Carrier(CVX), as well as Offshore Patrol Vessel (OPV) developed for the export international market, which will lead and expand the 'K-Defense' reputation in naval ship sectors.
HD HHI is further strengthening naval ship research and development (R&D) and, as one of the results, has made remarkable progress in the basic design of KDDX since its contract award in January 2020. Through this project, HD HHI aims to design a first-of-its-kind integrated electric propulsion system for the Korean Navy and to propose a new platform that maximizes combat capabilities through optimal system integration and allows easy application of new technology and future weapon systems.
The mother ship for unmanned systems, which will receive significant attention as it is unveiled for the first time at the MADEX 2023, is led by HD HHI in collaboration with LIG Nex1 and Seowon University. Based on the results of the joint study, the ship is expected to play a significant role in defining the direction of manned/unmanned system integration. The proposal by HD HHI encompasses features such as optimization of missions while exploiting possible parallel task execution in the operation of multiple and diverse unmanned assets, UAV sortie scheduling optimization, and automated survivability enhancement.
Amidst ongoing research by the Korea Institute of Defense Analyses (KIDA) on the direction of the CVX project, HD HHI unveils, for the first time, its conceptual model of CVX fitted with Catapult Assisted Take-Off But Arrested Recovery (CATOBAR) system. In 2020, HD HHI completed the conceptual study on the Korean Light Aircraft Carrier and is now advancing the concept of the CVX incorporating the Electromagnetic Aircraft Launch System (EMALS) and domestically developed combat aircraft (KF-21N).
Following the successful delivery of two 2,600-ton frigates to the Philippine Navy (PN) in 2020 and 2021, and additional orders for two 3,200-ton corvettes and six 2,450-ton OPVs for the PN which are under construction stage, HD HHI plans to lead and accelerate exports of naval vessels showcasing OPVs targeting high-potential export markets, including HDP-1500Neo, HDP-2200Neo, and conceptual OPV with highly automated systems during the exhibition.
During MADEX, HD HHI and Babcock International signed a Technical Cooperation Agreement to collaborate on the Canadian Patrol Submarine Projects (CPSP). HD HHI and Korea Aerospace Industries (KAI) join forces to develop simulators and provide an innovative solution for crew training program.
"With a deep sense of duty that the best makes the best and our advanced technological prowess, we are successfully completing the construction of the next-generation of Aegis destroyer and implementing FFX Batch-III. Building upon this, we will continue to pursue the follow-on projects. During MADEX 2023, we are showcasing various research and development achievements by the world's leading shipbuilding technology company, unsparingly demonstrating our capabilities as a leading company that realizes the human dreams with human dynamics."
Dr. Won-ho Joo, Senior Executive VP, Head of Naval and Special Ship Business Unit at HD HHI