22 May 2023
General Dynamics European Land Systems (GDELS) and Clavister present new cybersecure digital vehicle architecture at FEINDEF 2023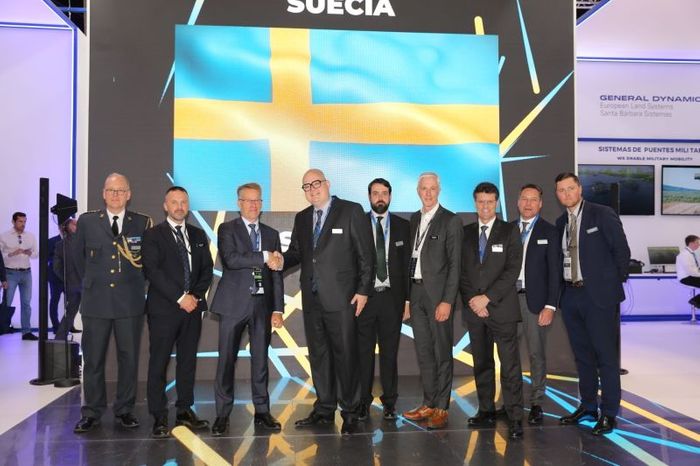 17th May 2023 – Madrid, Spain – Based upon the newly established technology partnership with Swedish cybersecurity specialist Clavister, GDELS has further enhanced the digital vehicle architecture of its military mobility solutions with advanced cybersecurity technology including artificial intelligence. This innovation will provide GDELS' vehicles battlefield superiority regarding situational awareness, maneuverability, firepower, and protection. Clavister's cybersecurity solution protects and defends against known as well as unknown cyber threats, enhancing GDELS' vehicles survivability and allowing them to 'continue to operate' by all means at all times.
"Increased interdependence and digitization in the battlefield demands advanced cyber protection in our vehicles. Because of its innovative expertise in cybersecurity, Clavister is a perfect technology partner for GDELS. Today, having proper cybersecurity countermeasures is an unquestionable requirement for us", said Jose Lineros, Vice President Engineering of GDELS.
John Vestberg, CEO of Clavister said, "I am very excited about this new partnership with General Dynamics European Land Systems. Our cyber security capacity together with GDELS' dedication to provide world class military mobility will ensure that the benefits of digitization are made available to those who protect and defend us when they need them the most."
Clavister is a specialized European cybersecurity company, protecting complex digital businesses for more than two decades. Founded and headquartered in Sweden, Clavister pioneered one of the first firewalls and has been building robust and adaptive cybersecurity solutions ever since. Empowering a growing ecosystem of partners and resellers, the company has been serving customers in over 100 countries with more than 125,000 deployments across public sector, service provider and defense sectors. (www.clavister.com)
General Dynamics European Land Systems, headquartered in Spain, is a business unit of General Dynamics (NYSE: GD) and conducts its business through European operating sites located in Austria, Czech Republic, Germany, Spain, Switzerland and Romania. With roughly 2,400 highly skilled employees, the companies design, manufacture and deliver world-class land combat systems, including wheeled, tracked and amphibious vehicles, and mobile bridge and ferry systems, to global customers. (www.gdels.com)
GDELS and Clavister are both members of the European Defence Fund consortium COMMANDS.
Media Contacts
Andreas Himmelsbach
E-Mail: andreas.himmelsbach@gdels.com
Camilla Tornblom
E-Mail: Camilla.Tornblom@Clavister.com