31 May 2023
ChipCHECK chosen to support RCAF CH146 Griffon Fleet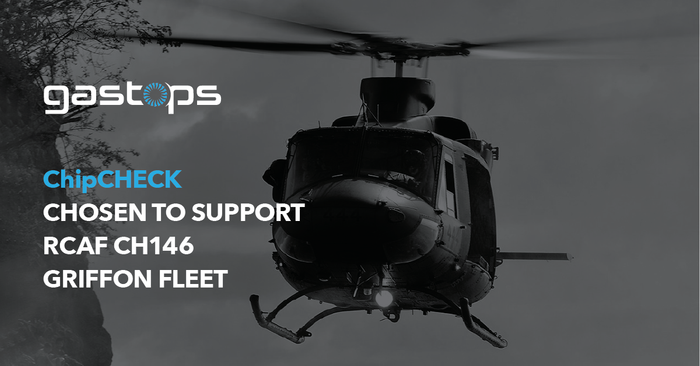 Ottawa, ON, Canada (May 31, 2023) – Gastops is pleased to announce ChipCHECK's selection on Bell Textron Canada's program to support the Royal Canadian Air Force's (RCAF) fleet of 85 CH146 Griffon helicopters, a multi-role military variant of the widely adopted Bell-412EP developed for the Canadian Armed forces. Seven ChipCHECK units have been procured to assist in maximizing equipment readiness, improve maintenance efficiency and reduce costs.
ChipCHECK, a portable and automated debris analysis tool, was selected following a multi-year trial, that was initiated under the Public Works and Government Services Canada (PWGSC) Build in Canada Innovation Program (BCIP), now known as the Innovative Solutions Canada Program (ISCP). The purpose of the ISCP was to bring high Solution Readiness Level (SRL) innovations from Canadian technology developers to the intended market for feedback. Throughout the course of the program, Bell evaluated the effectiveness of ChipCHECK in supporting the CH146 Griffon. ChipCHECK provided Bell with the ability to analyze and evaluate the source of gearbox and engine wear debris at the Flightline with accuracy and an unprecedented turnaround time.
Bell is very positive about the impact of ChipCHECK and the ISCP. "The CH146 is the workhorse of the RCAF's Tactical Aviation capability and ChipCHECK provides added assurance that the aircraft is ready to fly the demanding missions of the Canadian Armed Forces at all times" says Marc Bigaouette, Director Canadian Government Programs at Bell.
The benefits of ISCP have helped launch a uniquely Canadian innovation into markets around the world. "We cannot overstate the benefits of the program as it provided us with a new level of engagement with the RCAF and with industry-leading Original Equipment Manufacturer, Bell Textron Canada. The ISCP has provided us with valuable user feedback that we have incorporated into the ChipCHECK product line" said Shaun Horning, President, & CEO of Gastops. "It has helped us build a product that has now been adopted by as many as 17 defence forces across the globe" says Horning.
For over 40 years Gastops has been leading the creation and digitization of intelligent condition-monitoring solutions used to optimize the availability, performance, and safety of critical engine and gearbox components. ChipCHECK has enabled operators and maintainers to make educated, proactive, and prognostic maintenance decisions without the reliance on complex and often distant analytical techniques and equipment.
About Gastops
Gastops is the world's leading provider of intelligent condition monitoring solutions used in Aerospace, Defence, Energy, and Industrial applications to optimize the availability, performance, and safety of critical assets. We offer peace of mind to our customers with innovative online monitoring sensors, at-line analysis, complex modeling and simulation, world class laboratory testing, engineering, design, and MRO services that predict performance to enable proactive operating decisions. Gastops has been providing powerful insights into the condition of critical equipment since 1979.
gastops.com
###
media@gastops.com
+1 (613) 744-3530