22 Mar 2023
Capella Space Announces Industry-First Analytics Partner Program to Accelerate access to Earth Observation Insights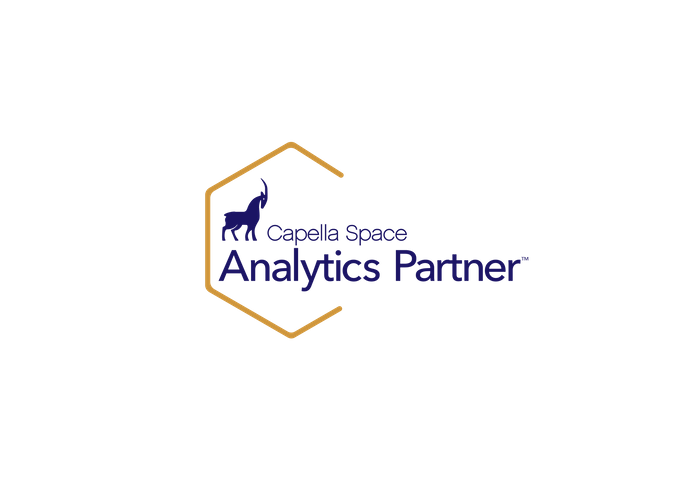 Program empowers companies to build innovative solutions powered by Synthetic Aperture Radar (SAR) and artificial intelligence
SAN FRANCISCO, Feb. 22, 2023 /PRNewswire/ — Capella Space, the world's leading provider of best quality, high resolution Synthetic Aperture Radar (SAR) imagery for a wide range of government and commercial applications, today announced the launch of its Analytics Partner Program to meet the increasing global demand for geospatial products and solutions that leverage the power of SAR. While many organizations can benefit from information derived from SAR data, they often lack the tools to analyze and interpret the data at scale. This new program, which is the first of its kind for commercial SAR data, will fill this gap by empowering partners to develop AI-powered geospatial solutions for a wide range of industry verticals.
"At the heart of our Analytics Partner Program are trust and transparency. Long-term access to timely, accurate, all-weather information is game-changing for so many industries and presents a growing market opportunity for our partners," said Payam Banazadeh, founder and CEO of Capella Space.
The need for useful, real-time Earth observation data is increasing with the growth and intensity of global geopolitical, commercial, and environmental challenges. With more than 75% of the Earth covered by clouds or darkness at any given time, SAR technology captures Earth imagery day or night and through all types of weather conditions, helping organizations make mission-critical decisions where reliable, consistent information is essential.
Capella's constellation of high-resolution SAR satellites has a multi-year track record of delivering the highest quality SAR imagery to global customers. With this program, Capella will bring the same caliber of products and services trusted today by its discerning government and national security customers to a wide range of commercial markets including manufacturing, energy, insurance, and finance.
Access to sufficient volumes of training data is a challenge for developers seeking to build solutions with commercial satellite imagery. With this new program, Capella is removing those barriers by opening its archive for partners to push the boundaries in developing next-generation applications powered by artificial intelligence and machine learning.
Capella Space has provided early program access to a handful of innovative companies currently serving commercial markets with useful solutions powered by SAR data. Woolpert, an architecture, engineering, geospatial and strategic consulting firm uses data across markets to serve public, private, and government clients worldwide. Kayrros, a global environmental intelligence company and a leader in asset observation technology, extracts data from satellite imagery and applies AI and cutting-edge geo-analytics to deliver intelligence and insight to businesses, markets, policymakers, and researchers. Floodbase, formerly known as Cloud to Street, specializes in end-to-end flood data solutions.
"As an early adopter of SAR and long-time Capella customer, we are incredibly excited about this new program because it is going to make it possible for us to unlock a wide range of new and exciting use cases for our customers. This program will allow us to expand our current capabilities with SAR, research and develop new solutions, and develop new products," said Jon Downey, Senior Vice President, Woolpert.
"At Kayrros, we are passionate about building state-of-the-art geospatial data products that our customers rely on to reduce their greenhouse gas footprint; protect people, assets and natural ecosystems; and manage the energy transition and associated transition risks. We're thrilled to be able leverage this program to find ways to further expand the value we believe Capella's data can offer our customers while leading energy and climate industries forward," said Antoine Rostand, Kayrros CEO.
"SAR is an important tool in the toolbox for our parametric flood insurance solution," said Bessie Schwarz, CEO of Floodbase. "Over the past few years, Capella has emerged as a monumental force in the satellite revolution, without which our solutions would not be possible. We are excited to be one of the first members of Capella's Analytics Partner Program and look forward to building data products together that close the flood insurance protection gap."
For more information on the Capella Space Analytics Partner Program, including the criteria for companies looking to apply, please visit www.capellaspace.com/partners.
About Capella Space:
Capella Space is an American space tech company with data and satellite solutions for government and commercial use. A pioneer in the Earth observation industry, Capella is the first U.S. company with a constellation of Synthetic Aperture Radar (SAR) satellites, delivering the best quality, highest resolution SAR imagery commercially available. Capella provides easy access to frequent and timely information affecting dozens of industries worldwide, including defense and intelligence, supply chain, insurance, maritime and others. Its market-leading SAR satellites are matched with unparalleled data infrastructure to quickly deliver reliable global insights that sharpen our understanding of the changing world – improving decisions about commerce, conservation, and security on Earth. Headquartered in San Francisco, California with additional locations in Denver, Colorado and Washington, D.C., Capella's satellites are operated, designed, and manufactured in the USA. Learn more at www.capellaspace.com.